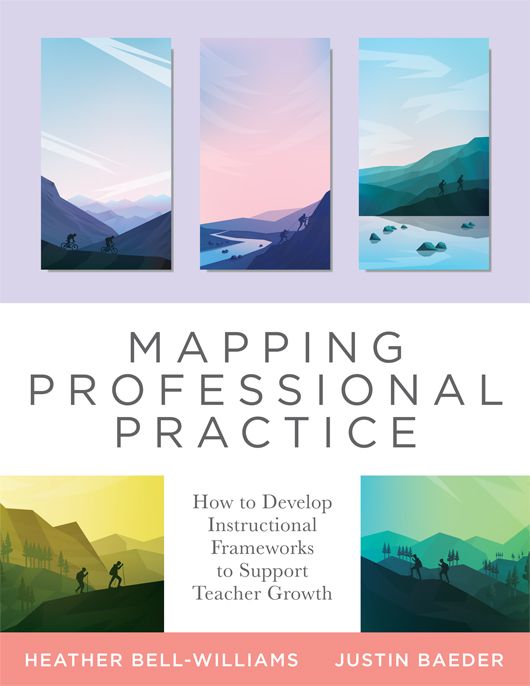 Mapping Professional Practice
How to Develop Instructional Frameworks to Support Teacher Growth
How can a common vision for professional practice help teachers grow? Instructional frameworks are a proven tool for getting educators on the same page about what matters most in specific areas of practice.
Add this eBook to your credit card purchase and gain immediate access.
eBooks are available on desktop, Android, and iOS via Adobe Digital Editions. eBook purchases are limited to one eBook per title, per account. Please visit the eBook FAQ for more information.
Publication date:
Only %1 left
A tool to use instructional frameworks to accelerate improvement across your organization
Shared expectations are essential, but challenging to develop. Surface-level descriptions of what a practice looks like to an observer, rather than what it feels like to the professional enacting it, miss the heart of the matter and frustrate teachers.
Too often, teachers struggling with a practice can't envision how to make the leap from their current reality to the seemingly effortless proficiency of their more skilled colleagues. Instructional frameworks provide detailed roadmaps for mastering more timely, integrated, and proactive approaches.
For teachers who are already proficient, it can be even harder to identify next steps for continued growth. The instructional framework development process helps teachers implement truly exemplary state-of-the-art practice from across the profession.
In Mapping Professional Practice, you'll discover how to accelerate teacher growth by taking the "insider's view" of practice, articulating key dimensions of professional judgment to create clear growth pathways for teachers at every level of fluency.
Put into action, instructional frameworks help teachers locate their current level of fluency, focus on the key dimensions of professional judgment, and take their practice to the next level. In contrast to one-size-fits-all approaches covering every grade and subject area, instructional frameworks allow individual departments and teams to make specific applications of broader shared expectations.
At the organizational level, instructional frameworks can help senior leaders understand the nuances of exemplary teacher practice in specific grades and subject areas. Leaders will learn how to plan improvement initiatives using the lean change approach, building momentum and minimizing resistance.
Filled with dozens of sample frameworks at different stages of development, Mapping Professional Practice will help you articulate more specific shared expectations and accelerate teacher and organizational growth like never before.
Teacher leaders, administrators, and instructional coaches will gain a replicable process for:
Identifying the most promising areas of focus
Drafting and piloting an initial framework
Getting input and feedback from teachers
Articulating a vision for exemplary practice
Building momentum and overcoming resistance to change
Related Topics
LeadershipSchool ImprovementTeacher Efficacy
---
Additional Information
Product Code: BKG054. EKF616
ISBN: 9781954631113
Published By: Solution Tree
Page Count: 224
"Teaching is both a science and an art. So, how do we teach those seemingly instinctive gifts great teachers appear to possess? Ms. Bell-Williams and Dr. Baeder show you how in this engaging, enlightening, and practical book. Applying systems thinking to the nuanced requirements of teaching and working with students, the authors have found a way to 'operationalize common sense' and clearly define best practices. I learned a great deal from their emphasis on instructional vision and leadership, team collaboration, and overcoming the biggest challenges inherent in school transformation. As the principal of a Solution Tree Model PLC School for five years running, I was reminded how much we can still learn and grow and, more importantly, how to do it!"
"In Mapping Professional Practices, the authors identify comprehensive frameworks for supporting the decision-making process of educators in the field. Heather Bell-Williams and Justin Baeder use their extensive knowledge and years of experience working with educational leaders, teachers, and support staff to offer detailed guidance, evidence-driven feedback, and tools for success to promote better judgment when working with students to bring about positive outcomes. This book offers educational leaders strategies to improve professional conversations, give targeted feedback, and foster reflection about classroom practices with preservice, novice, mid-career, and veteran teachers."
"In Mapping Professional Practice, Heather Bell-Williams and Justin Baeder have created a guide to what great leaders do best: creating vision and implementing change. Their book introduces the concept of invisible practice and explains how to define and measure such practices—the key to driving sustainable change in schools. It's one thing to use frameworks for this process, but a different skill entirely to understand and learn to develop frameworks that fit the needs of one's own school. Mapping Professional Practice teaches the latter in an accessible format for school leaders."