Yes We Can! An Unprecedented Opportunity to Improve Special Education Outcomes Virtual Workshop
This event is a virtual workshop delivered via the Zoom meeting platform. Attendees will receive a link to participate two days prior to the event.
Registration will close two business days prior to the event start date.
Yes We Can! An Unprecedented Opportunity to Improve Special Education Outcomes Virtual Workshop
State adoption of more rigorous academic standards underscores the sense of urgency for schools to determine how to ensure all students learn at the highest levels—including English learners, children with special needs, children from poverty, and children facing trauma. During this hands-on training designed for school or districtwide teams, general and special educators will discover how to utilize PLC best practices to develop collaborative partnerships and identify high-leverage structures and strategies that will level the playing field, accelerate learning, and support success for all students.
Learn strategies for building a school culture that believes all students can succeed.
Examine collaborative structures to support high levels of learning.
Explore the essential elements of a guaranteed and viable curriculum.
Understand how to design what a balanced and coherent system of assessment looks like.
Discover a protocol for unpacking and prioritizing units at the team level, including scaffolding instruction.
Know what it means to design standards-aligned instruction with a focus on tailoring learning based on data.
Realize the connections among response to intervention (RTI), professional learning communities (PLCs), and special education and how they all work together in a continuum of service.
Identify individualized education program (IEP) goals specific to student areas of deficit and aligned to priority standards.
Recognize what is important in developing systems for efficiently and formatively monitoring student progress toward learning goals.
Develop a plan for site-based next steps.
Learn from leading experts
Hear from our attendees
"The most valuable aspect of this event was the topics of the sessions which were all valuable information that would lead any school to improvement and success for all students academic growth. "
Agenda and speakers are subject to change.
Thursday, December 7th
| | |
| --- | --- |
| 12:30–1:00 p.m. | Break |
| 1:00–4:30 p.m. | Presentation |
Thursday, December 8th
| | |
| --- | --- |
| 12:30–1:00 p.m. | Break |
| 1:00–4:30 p.m. | Presentation |
All times are Eastern time zone.
There will be additional breaks within the presentation times given by the presenter.
"Loved all of the content. I wish this presentation was three days instead of two days."
"The presenter was great! She explains things so that any audience can understand."
"Love how our students are not just ours but everyone's and the point made that we are to prepare them for the world beyond school. . . . Am planning to take the rubric method talked about here and utilize it with my students and number them so when I am collaborating with my peers they won't know exactly who we are talking about."
"The conversations focused with our team regarding use of data, effective methods of reteach, and how to drive the formation of positive culture to push ALL students to learn."
Participation Information
You will receive a certificate of participation 6 weeks after the event concludes. Please check with your state department of education for CEU availability.
---
Virtual Events Shipping
All paid orders received up to two weeks prior to event start date, and sent with complete attendee shipping information, will receive their supplies before the event. Orders placed after this two-week time frame will not receive materials before the start of the event. Substitutions made after shipments have been sent are the responsibility of the original attendee. Unforeseen issues with the shipping carriers, or due to weather, are outside of Solution Tree's control and may cause delays in receipt of materials.
---
Additional Information
---
Included with your registration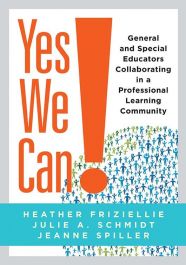 Utilizing PLC practices, general and special educators must develop collaborative partnerships to close the achievement gap and maximize learning for all.