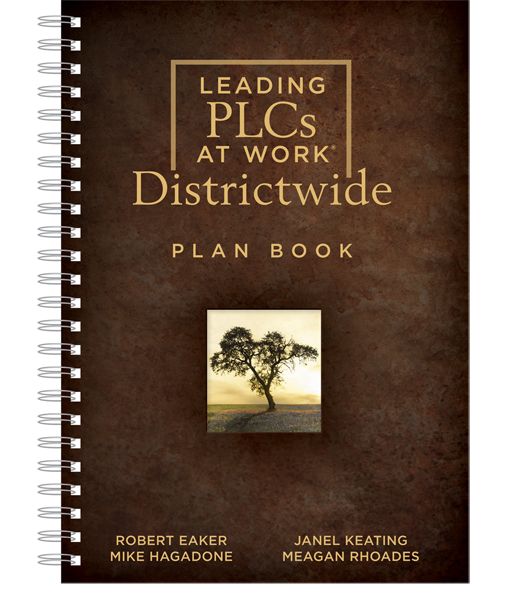 Leading PLCs at Work® Districtwide Plan Book
Specially designed for leaders, this plan book includes weekly planning pages, checklists, and self-reflection tools. Use the strategies and templates within to foster continuous improvement in your school district and professional learning community (PLC).
Add this eBook to your credit card purchase and gain immediate access.
eBooks are available on desktop, Android, and iOS via Adobe Digital Editions. eBook purchases are limited to one eBook per title, per account. Please visit the eBook FAQ for more information.
Publication date:
Only %1 left
A school district leadership plan book for continuous improvement in a PLC
Champion continuous school improvement with the support of our Leading PLCs at Work® Districtwide Plan Book. Divided into weekly and monthly planning pages, the plan book helps guide leaders in identifying and acting upon major responsibilities, tasks, and goals throughout the year. Also included are PLC checklists as well as multiple tools for self-reflection, project preparation, and meeting planning.
Discover how to work backward when designing effective plans for your school district.
Understand why it is essential to have a visual districtwide calendar that holds everyone accountable and provides everyone with the same information.
Receive templates for planning and monitoring activities and due dates.
Utilize daily checklists as well as weekly and end-of-year self-reflection tools.
Learn how to evaluate timelines to optimize time and productivity in your professional learning community (PLC).
Related Topics
LeadershipProfessional Learning Communities at Work®Professional Learning CommunitiesSchool Improvement
---
Additional Information
Product Code: BKG004, EKF566
ISBN: 9781952812170
Published By: Solution Tree
Page Count: 236
"In this exceptionally practical resource, readers will find a road map to implement professional learning communities throughout the district. With a month-by-month plan, teachers and administrators at every level will achieve clarity about what to do and when to do it. Whether you are an advanced practitioner of the PLC process or just beginning your PLC journey, this book holds the key from moving from 'islands of excellence' to systemwide implementation."
"This book is an excellent tool for all leaders who desire to change the learning culture of their school district. Leaders at the beginning of the PLC journey may choose to use it as an initial road map. Those of us who have committed to the PLC process for several years can use it as a tool to evaluate and strengthen our implementation. The book's format can assist all of us in taking student learning to the next level. What an awesome resource!"
"Leading PLCs at Work Districtwide Plan Book comes the closest of any resource I've seen to helping educators see a clear and detailed pathway for implementing Professional Learning Communities at Work at a district level. From reflecting backward to planning forward, and everything in between, these authors—highly effective leaders in their own implementation efforts—offer practical checklists of month-by-month considerations, detailed reminders, and supportive templates and tools that even prompt us to take care of ourselves along the way. This plan book will serve as a powerful tool for any school system striving to fully implement the work of PLCs at the district level."
"I have been a school administrator for over 23 years and an educator for 31. In my experience, there is nothing that educators love more than structure and a plan! Leading PLCs at Work Districtwide Plan Book provides just that: a structure that leads to a week-to-week and month-to-month plan for the deep implementation of PLC practices. Beyond a plan, it encourages and supports critical monthly reflection along the way. Whether your district has been on its PLC journey for years or you are just beginning, these authors have created a resource that is a must!"
"Implementing the PLC at Work process is a monumental task at the school level, but even more challenging when trying to implement the process at scale across an entire school district. This book is a masterful step-by-step guide for district leaders who truly want to accomplish PLC right as opposed to PLC lite. Any school district planning to use the PLC at Work process should get this resource, follow its guidance, and implement its suggestions if it is in true pursuit of improved student learning."