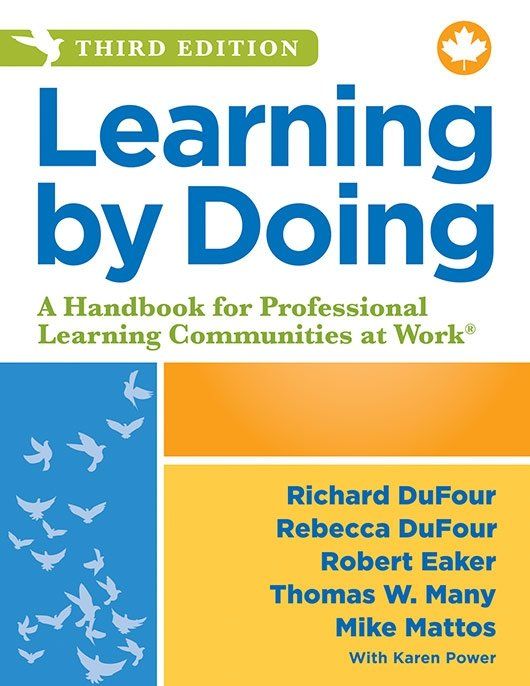 Learning by Doing [Canada Version]
A Handbook for Professional Learning Communities at Work®, Third Edition, Canadian Version
Written specifically for Canadian educators, this comprehensive action guide includes new strategies, tools, and tips for transforming schools into high-performing PLCs. Increase academic achievement among students and gain key employee retention strategies from educators with firsthand experience in the classroom.
Add this eBook to your credit card purchase and gain immediate access.
eBooks are available on desktop, Android, and iOS via Adobe Digital Editions. eBook purchases are limited to one eBook per title, per account. Please visit the eBook FAQ for more information.
Publication date:
Only %1 left
A comprehensive action guide for creating high-performing PLCs in Canadian schools and districts
Discover how to close the knowing-doing gap and transform your school or district into a high-performing PLC. Written specifically for Canadian educators, this comprehensive action guide expands on new and significant PLC topics. Access Canadian-specific case studies, advice, and tips for hiring and retaining new staff, creating team-developed common formative assessments, implementing systematic interventions, and more.
Learn how to improve student achievement across Canada's unique and widely diverse provinces and territories, including indigenous and remote regions.
Build a shared knowledge of critical vocabulary and the concepts underlying key PLC terms.
Explore scenarios, examples, and research aligned to the needs of Canadian educators and schools in Canada.
Make honest assessments of your school by examining conventional practices from a fresh, critical perspective.
Take immediate and specific steps to close the knowing-doing gap.
Follow the step-by-step format outlined in each chapter to advance your own school's PLC journey.
Move beyond planning, and start doing.
Related Topics
Professional Learning Communities at Work®Professional Learning CommunitiesTeams
---
Additional Information
Product Code: BKF930, EKF493
ISBN: 9781949539479
Published By: Solution Tree
Page Count: 288
"This version of Learning by Doing explores the original book's why and how of establishing and sustaining professional learning communities (PLC), but through a lens that is distinctly Canadian. New Brunswick's Karen Power does a commendable job of introducing and applying Canadian research, statistics, and contexts to the PLC process and inviting Canadian educators and leaders to embrace the moral imperative of high levels of learning for each and every student in each and every Canadian classroom. This book is a comprehensive guide to adults becoming learners and doing the right work in service of Canadian students. All does indeed mean all."
"The first edition of Learning by Doing was described by leading authorities in education as the seminal guide to ensuring all schools could become highly effective professional learning communities (PLCs). The work outlined has had significant impact, but something was missing here in Canada that contributed to the work either stalling or not realizing its full potential. Enter Karen Power and her work to contextualize the content so that this large country of small communities could take the next steps. As Power points out, this geographic and demographic reality 'created even more urgency for me to help build common understanding of the need for all of us to collaborate around learning and results.' A national PLC in effect! Power has added case studies derived from the PLC work in Canadian schools and districts, which lends clarity to the work. The identification of Canadian trends and data also personalizes this work. The absence of a federal overlay in the Canadian education landscape provides the potential for thirteen jurisdictions (ten provinces and three territories) to each go their own way. But as Power points out, Canadian educators 'must recognize the need to help every student succeed in school has never been greater: the consequences of failure in the K–12 system have never been more dire.' Her efforts with the Canadian version of this book will go a long way to identifying practices and procedures that will make the pursuit of student success clearer and manageable. This text will move the work of PLCs in Canada from a view of that's a concept that works elsewhere to educators believing it's both possible and practical to engage in the work here."
"To ensure that all students are learning at high levels, schools must have a focus on learning, a focus on collaboration, and a focus on results. Student needs must be regularly assessed and classroom instruction planned and delivered in a way that meets all learners where they are in their knowledge, skills, and experiences. The Canadian version of Learning by Doing provides clear direction with relevant examples that will guide, challenge, and strengthen any school on its course to ensure all students are learning at high levels. It is a must-have resource book that needs to be on the desk of every school leader."
"The Canadian version of Learning by Doing, Third Edition is both a powerful resource of what works to improve and deepen student learning experiences and a compelling call to action for Canadian educators. It is a rich collection of tools to support the work of educators, useful implementation strategies to guide systemic improvement, and actionable steps that school and district staff can take immediately to improve learning for all. The 'homegrown' case studies further the notion of a Canadian community of collaboration, offering scenarios and solutions that will resonate directly with Canadian educators. Learning by Doing should be required reading for all educators intent on ensuring high levels of learning in Canadian schools."
"This book provides strategies and templates that impact classrooms by clearly defining for teachers what to teach and how to assess, while improving upon best teaching practices. The best part is it is based on a team approach where the experts, our teachers, take the lead. I wouldn't start my career without this book!"
Free Resources
Explore these powerful tools to help reach your goals.