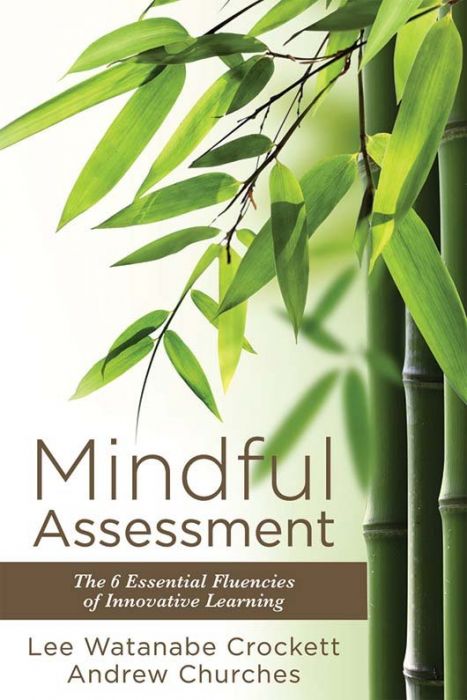 The 6 Essential Fluencies of Innovative Learning
Educators must focus assessment on mindfulness and feedback, framing assessment around six fluencies students need to cultivate for 21st century success.
Mindful Assessment
It is time to rethink the relationship between teaching and learning and assess the crucial skills students need to succeed in the 21st century. The authors assert that educators must focus assessment on mindfulness and feedback for improvement, framing assessment around six fluencies students need to cultivate. The book provides scenarios, lessons, activities, and assessment rubrics.
Discover the essential fluencies and skills students need for success in the 21st century.
Examine different kinds of assessments and their focuses, strengths, and weaknesses.
Gain assessment rubrics for evaluating students skills in the fluencies.
Access sample lessons and projects that support the fluencies.
Employ the Solution Fluency Activity Planner to help students develop the fluencies theyll need to succeed in the 21st century.
Related Topics
---
Additional Information
Product Code: BKF717
ISBN: 9781942496885
Published By: Solution Tree
"The authors have provided a much needed guidebook for assessing some of the most important fluencies that lead to deeper learning."
"The crucial new skills and mindsets that learners need to flourish in 21st century life are clearly explained in this book. Crockett and Churches not only describe fluencies and explain their importance but also provide examples of assessment rubrics which will enable teachers to implement these fluencies in the classroom. This book will inspire and challenge teachers."
"Crockett and Churches break down the four walls of the traditional schoolhouse and open up the world to teacher and student by creating global citizens. The project ideas contained throughout the book would make the cost worth it alone but add to that the comprehensive rubrics the authors include and the ways to create critical thinkers. They show step by step how to create life-long learners."
"How to assess 21st century fluencies enables educators to become activators of learning as they promote student mastery and skill development of the 7 Cs (creativity, critical thinking, collaboration, communication, character, cultural & ethical citizenship, and computer & digital technology).

"A very timely how-to book for educators looking for support in preparing students for the 21st century fluencies of solution, information, creativity, media, collaboration, and global digital citizenship.

"A must-read for educators changing their pedagogy to fit 21st century learning!

"How does a teacher utilize the assessment of 21st century fluencies to implement a learning environment conducive to preparing students for this new global society? This book is filled with exemplars of how to do it"
Free Resources
Explore these powerful tools to help reach your goals.