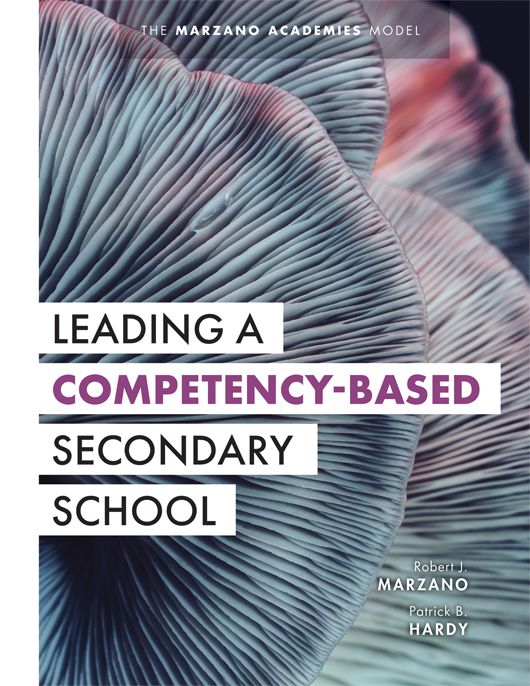 Leading a Competency-Based Secondary School
The Marzano Academies Model
This fourth book in the Marzano Academies series focuses on secondary school leadership for competency-based education. The beauty of the framework, however, is that any leader seeking guidance on innovative, equitable, and effective practices can use this book as a blueprint for positive change.
Publication date:
Only %1 left
Become a transformational leader with field-tested competency-based education strategies
This is your blueprint for how you, as a secondary school leader, can implement an effective competency-based education system. Based on decades of research and refined in the Marzano Academies, the model presented in this book will aid you and your staff in the process of shifting from a traditional school to a high reliability, competency-based organization.
Middle school and high school leaders will:
Learn about the Marzano Academies model and its application in secondary schools
Explore a phased approach to transitioning to competency-based education
Understand 16 school-level indicators and specific programs and practices for each
Monitor the impact of each indicator through high reliability leadership
Examine the roles of leaders during transformational change
---
Additional Information
Product Code: BKL056, EKL046
ISBN: 9781943360451
Page Count: 184
"This book is a useful tool for any administrative team to use in evaluation of the whole school system. Robert J. Marzano and Patrick B. Hardy do an excellent job in allowing this resource to be an easy how-to for any administrator to set up a system for success in their school based on high reliability leadership. It truly was a pleasure being able to learn from them."
"Marzano and Hardy have written an easy-to-read implementation guide for a competency-based school! Any schools, even those not part of Marzano Academies, can use the proficiency scales to score their programs and review the specific approaches presented to locate areas of improvement and enhancement. This text pairs well with work on standards-referenced grading and other Marzano Resources topics and seems like a natural next step."