Positively influence the behavior of even your most challenging students. In The Tactical Teacher, author Dale Ripley shares a plethora of tactics, ranging from persuasive dialogue to environmental details, proven to improve classroom behavior and increase student learning.
Benefits
Understand how the experiences of ancient humans still impact student behavior.
Understand the difference between soft and hard tactics and how to use them effectively.
Forge positive relationships with even your most challenging or disruptive students.
Explore the ethics of using specific influence and persuasion strategies in the classroom.
Help students engage in learning through the tactics portrayed in each chapter.
Get your copy today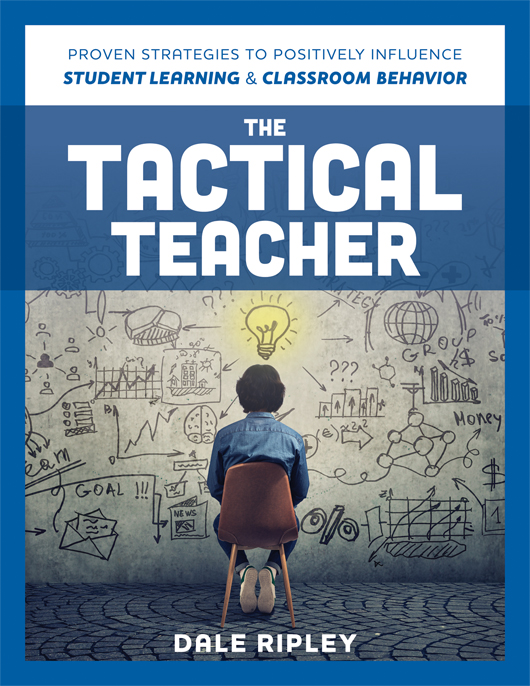 ---
TABLE OF CONTENTS
Chapter 1: Why Your Students Behave the Way They Do
Chapter 2: Student Behavior Through the Lens of Natural Selection
Chapter 3: Soft Tactics for Helping Your Students Create a Positive Self-Image
Chapter 4: Soft Tactics for Reciprocation
Chapter 5: Soft Tactics for Likability
Chapter 6: Soft Tactics for the Power of Commitment
Chapter 7: Soft Tactics for Making the Invisible Visible
Chapter 8: Soft Tactics for Empathetic Persuasion of Students' Thinking
Chapter 9: Soft Tactics for Your Classroom's Physical Environment
Chapter 10: Soft Tactics for Motivating Students by Taking Something Away
Chapter 11: Soft Tactics for Persuading Students With the Right Words
Chapter 12: Soft Tactics for Motivating Students Through Rewards
Chapter 13: Soft Tactics for Making a Great First Impression
Chapter 14: Hard Tactics to Use With Extreme Caution
Chapter 15: Soft Tactics for Knowing When to Influence Your Students
Chapter 16: The Ethics of Influence
Chapter 17: How Your Students might Subconsciously Motivate You
Epilogue
Appendix
PRINTABLE REPRODUCIBLES
Chapter 1
Chapter 2
Chapter 3
Chapter 4
Chapter 5
Chapter 6
Chapter 7
Chapter 8
Chapter 9
Chapter 10
Chapter 11
Chapter 12
Chapter 13
Chapter 14
Chapter 15
Chapter 16
Chapter 17
Appendix
SUGGESTED RESOURCES
BOOKS
Brendtro, L. K., Brokenleg, M., & Van Bockern, S. (2019). Reclaiming youth at risk: Futures of promise (3rd ed.). Bloomington, IN: Solution Tree Press.
Colburn, L., & Beggs, L. (2021). The wraparound guide: How to gather student voice, build community partnerships, and cultivate hope. Bloomington, IN: Solution Tree Press.
Conzemius, A. E., & O'Neill, J. (2014). The handbook for SMART school teams: Revitalizing best practices for collaboration (2nd ed.). Bloomington, IN: Solution Tree Press.
DuFour, R., DuFour, R., Eaker, R., Many, T. W., & Mattos, M. (2016). Learning by doing: A handbook for Professional Learning Communities at Work (3rd ed.). Bloomington, IN: Solution Tree Press.
Grafwallner, P. (2021). Not yet . . . and that's OK: How productive struggle fosters student learning. Bloomington, IN: Solution Tree Press.
Jensen, E. (2019). Poor students, rich teaching: Seven high-impact mindsets for students from poverty (Rev. ed.). Bloomington, IN: Solution Tree Press.
WEBSITES