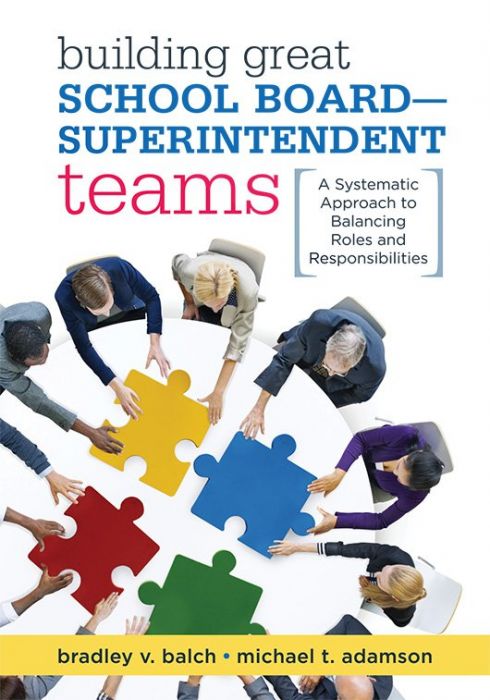 Building Great School Board–Superintendent Teams
A Systematic Approach to Balancing Roles and Responsibilities
Discover a systematic approach for establishing school board–superintendent teams that efficiently address demands and respond to the ever-changing educational environment. Understand the role of school board members and instructional leadership in your school improvement plan.
Building Great School Board–Superintendent Teams
To address urgent challenges and drive continuous improvement effectively, school board members, superintendents, and school leaders must develop strong school board–superintendent teams. The authors offer a systematic approach for establishing a unified team that can efficiently meet demands, avoid conflict, and respond to the ever-changing educational environment. Each chapter includes professional development activities that can be adapted for teams of any size.
Consider how the school board–superintendent team can remain sustainable and productive in governance and leadership.
Foster committed team relationships and develop the important qualities of team leadership.
Clarify the roles and responsibilities of school board–superintendent team members to improve governance and avoid conflict.
Learn how to communicate effectively and speak with one unified voice as a team.
Participate in team professional development activities that build trust, respect, transparency, and accountability among the team.
Related Topics
LeadershipSocial-Emotional Learning
---
Additional Information
Product Code: BKF787
ISBN: 9781945349133
Published By: Solution Tree
"In these challenging times for public education, Balch and Adamson emphasize the importance of local school governance and provide essential tools to school boards, superintendents, and administrators that will empower them to impact their communities. Balch and Adamson provide a treasure trove of hands-on professional development activities that hone in on concepts such as teamwork, leadership, decision making, and strategic planning. Their dynamic book is a go-to on how to become an effective and visionary educational leader."
"Building Great School Board–Superintendent Teams brings the leadership team together by providing an understanding of how the school board–superintendent relationship impacts the governance of the district. … Balch and Adamson's book is a must-read for every superintendent and school board member who needs to speak with a unified voice, make decisions as a team, focus on continuous improvement, and lead their district with a sound foundation in governance."
"Building Great School Board–Superintendent Teams is a must-read for school board members and superintendents, on a topic that is at the heart of successful school district governance and leadership. The content is clear, concise, and compelling—a tremendous read for new superintendents and school board members. As a veteran superintendent, I found the book intriguing and inspiring."
"The single most important relationship to get right in public schools is the board-superintendent relationship. Balch and Adamson understand that you can't microwave community. High-performing governance teams make community building a deliberate act."
"Building Great School Board–Superintendent Teams provides an easy-to-access, useful set of guidance and workshop structures to address important skills for board members and superintendents."