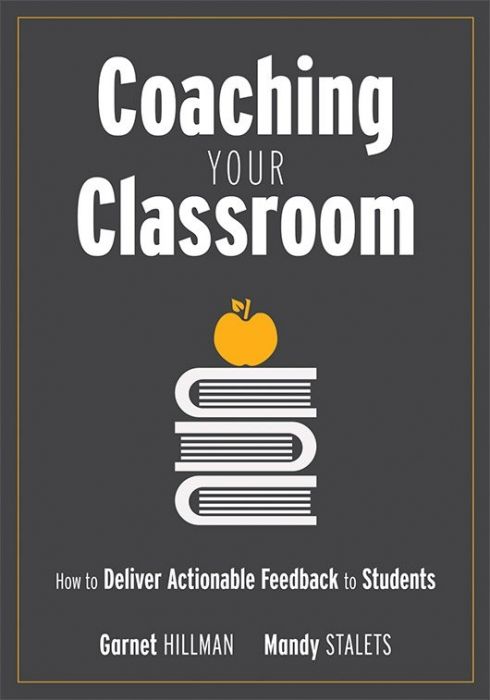 How to Deliver Actionable Feedback to Students
Learn how to employ effective feedback to create a student-centered culture in your classroom. Understand the importance of high-quality student feedback and communication in the classroom and how you can coach your students to their next steps.
Coaching Students in the Classroom Through Effective Feedback
Maximize student self-efficacy and growth by providing high-quality feedback students can act on. In Coaching Your Classroom, authors Garnet Hillman and Mandy Stalets share a fresh perspective on effective classroom feedback for all grade levels and content areas. Explore the parallels between teaching students and coaching athletes, and then learn how you can coach every student to success every day.
Use this book to implement effective classroom communication and student feedback:
Analyze the impact of learning-centered classroom language and formative assessment on student learning.
Understand the importance of effective communication in the classroom, as well as how giving feedback works and what a student-centered culture looks like.
Embrace the qualities of actionable feedback and examine the effect on student engagement and intrinsic motivation.
Learn how to deliver individualized next steps and support students through the feedback loop and the gradual release of responsibility.
Read real-world accounts and examples from teachers who have successfully coached their classrooms.
Related Topics
AssessmentInstructionStudent Engagement
---
Additional Information
Product Code: BKF845
ISBN: 9781947604339
Published By: Solution Tree
Page Count: 144
"Garnet Hillman and Mandy Stalets have done a tremendous job combining important research with practical considerations to make a book that will benefit all teachers who read it. With a strong element of 'What does this look like in the classroom?', this book is guaranteed to make you think and reflect on your own teaching practice. As a result, I am sure all who do will benefit and become better coaches of their classroom."
"Coaching Your Classroom is the perfect companion book for educators desiring to emphasize feedback over point accumulation. Hillman and Stalets have translated the theory of grading and assessment reform into practical language for teachers to understand and model. Equally as impressive are the classroom teacher testimonials wrapping up each chapter providing the reader with more than enough examples to put all of the coaching ideas into practice."
"Hillman and Stalets do an excellent job bringing reflective teaching to life through coaching practices. Why don't we typically think to look at teaching as we look at coaching for athletes? It all makes sense! This book provides the why behind effective feedback, as well as specific examples of how to bring these ideas into practice. The reflective questions at the end of each chapter provide yet another way to assist educators with the implementation of these coaching ideas. The authors help us remember that as teachers we are all still learning and by practicing giving effective feedback, our students will reach even higher levels of success. I strongly recommend this book for all educators. This is a motivating read with strategies to try immediately!"
"The authors are able to make the strong case that good coaching is good instruction—especially when it comes to feedback. Oftentimes we as educators inadvertently provide praise or general feedback that doesn't highlight the strengths of the learner, connect to the learning target, or provide actionable next steps. This book lays out the rationale, research, and practical steps to become more intentional in how we provide the feedback that will have the greatest impact on our learners' achievement and continued growth."