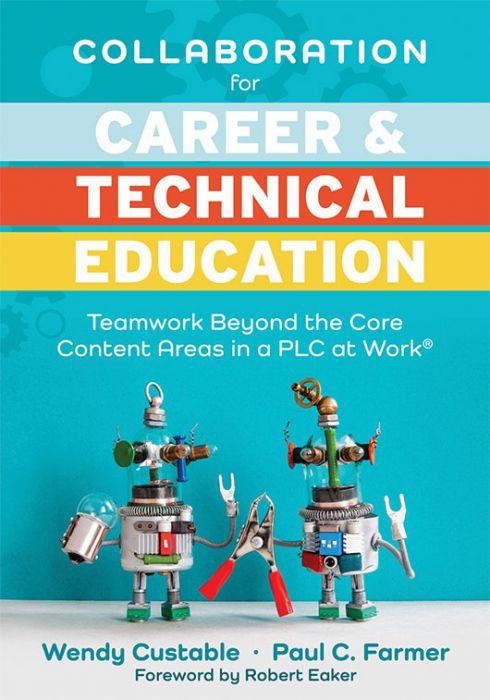 Collaboration for Career and Technical Education
Teamwork Beyond the Core Content Areas in a PLC at Work®
This practical resource explicitly outlines how CTE educators can integrate PLC best practices and collaborative team processes into their daily work. Maximize career and technical education for students through research-based teaching strategies.
A guide for collaborative teaching in career and technical education
All teachers—including career and technical education (CTE) teachers—play a vital role in building a thriving PLC. In this practical resource, the authors explicitly outline how to improve teaching and learning by integrating PLC best practices into CTE programs. Teams of CTE educators will learn how to clarify their purpose, discover their common denominators, and incorporate powerful collaborative processes into their daily work.
Become familiar with the common issues that prevent CTE educators from engaging in the collaborative PLC process.
Learn why and how the PLC process benefits both CTE educators and students.
Learn how CTE educators can create collaborative programs that are tailored toward CTE fields of study.
Receive professional guidance and concrete, achievable teaching strategies for creating an effective PLC process.
Access a checklist of crucial action steps for career tech teams at the end of each chapter.
Related Topics
21st Century SkillsProfessional Learning Communities at Work®Professional Learning CommunitiesTeams
---
Additional Information
Product Code: BKF940
ISBN: 9781949539677
Published By: Solution Tree
Collaboration for Career and Technical Education is a go-to source for the fundamentals of bringing together CTE teachers while taking into account the underlying issues in their differing backgrounds and knowledge. Using these issues as strengths helps to inform the focus on learning, collaborative cultures and the focus on student results.

The authors do a masterful job of blending theory with research-based strategies for developing, maintaining, and enhancing a PLC with CTE professionals. They explain in detail the vocabulary and processes for any situation, from working with teachers at the outset to strategies for student success.

Most of all, the authors have a keen sense of what it takes to bring CTE into the mainstream of school-improvement plan development and implementation. A must-have guide for schools everywhere!
Collaboration for Career and Technical Education is a timely publication for all educational stakeholders. Custable and Farmer write "As CTE educators we need to help other educators, employers, community members, and parents increase their awareness and value of CTE" (p. 1). What I believe is the strongest component of this entire publication is the focus on student learning—that all PLCs need to keep student learning at the forefront of all decisions. Custable and Farmer are both practitioners who have learned what works and what does not when it comes to CTE and the larger school community. Custable and Farmer have developed a user-friendly, research-based publication that also includes ready-to-implement resources to further develop school-based PLCs that extend beyond the school walls to the larger school, business, and industry communities. While it is sad and honestly unthinkable that the inclusion of CTE needs justification, Custable and Farmer do an exceptional job of laying out why all teachers—especially CTE teachers—need to be at the forefront of school PLCs. There is an abundance of resources in this publication that really excite me not only as an educator, but as a CTE enthusiast. I plan to implement the content of this publication in my curriculum and through CTE leadership activities. Thank you for developing a thoughtful, professional, and practical resource for CTE professionals!