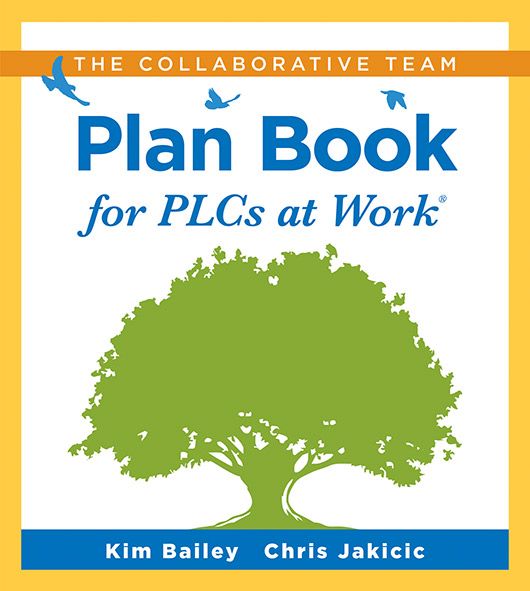 The Collaborative Team Plan Book for PLCs at Work®
Access forty weekly planning pages, succinct summaries of professional learning community (PLC) concepts, and many more tools that will help you and your team thrive throughout the year. This plan book, which contains many reproducible forms, helps teacher teams foster collaboration.
A plan book for fostering collaboration among teacher teams in a professional learning community
Designed exclusively for teacher teams, this plan book is a one-stop shop for practical PLC information and resources. Inside its pages, you'll find everything your team needs to thrive from the first day of school to the last. Access forty weekly planning pages, in-depth examples, succinct summaries of PLC concepts, and many more tools that will support your daily collaborative work of championing learning for all.
Review the foundational components of the professional learning communities (PLC) process, such as establishing norms, setting SMART goals, and developing common assessments.
Improve team planning and organization.
Utilize many reproducible forms and tools to improve collaboration and to collect and organize information.
Recognize the positive cultural shifts that occur for teams that follow the PLC process.
Explore additional resources to help deepen your knowledge of the work of collaborative teams.
Related Topics
Professional Learning Communities at Work®Professional Learning CommunitiesTeams
---
Additional Information
Product Code: BKF981
ISBN: 9781951075637
Published By: Solution Tree
Page Count: 128
"This book is one of the most useful tools that I have ever reviewed for teams that want to do the real work of a PLC. It seamlessly fuses theory, practice, and PLC implementation, making it a necessity for every collaborative team that truly cares about student learning."
"The Collaborative Team Plan Book for PLCs at Work by Kim Bailey and Chris Jakicic is essential for all educators. Throughout this book, you'll find not only explanations of team process but a wealth of proven, effective tools for use along the journey to becoming a successful PLC. If you are part of a teacher team that values high-quality, meaningful tools in a straightforward and manageable format, look no further. This is the plan book for you."
"For those who are serious about sustaining a high-quality PLC culture, you will not find a better or more useful resource. Excellent and most practical, Kim Bailey and Chris Jakicic know this work and how to support others in its successful implementation."
"This resource takes teams by the hand and supports them step by step through the work of collaborative teams to implement meaningful instruction, analyze progress, and determine next steps based on results. It's a must-read for any teacher team engaging in the PLC journey!"
"The team-planning process can be messy, full of sticky notes and scraps of paper. The Collaborative Team Plan Book for PLCs at Work captures all the resources teams need in one place to ensure effective collaboration. We have all heard the axiom, 'Failing to plan is planning to fail.' With this amazing resource, you will not fail!"
"This is a book you will want to keep close at hand! Use it to plan and refer to when you have questions and want to clarify your collaborative team's work and processes. The descriptions are concise and represent the best thinking in the evolution of PLCs committed to student learning and improving professional practice."
"PLCs represent a culture-shaping, results-driving transformation in schools. The big ideas forever transform the hearts and minds of those who truly embrace the concept. This amazing book provides all the the inspiring magic of a PLC, while delivering a much-needed set of organizing frameworks that allow us to move from concept to execution. Kim Bailey and Chris Jakicic are amazing!"
"The tools that Kim Bailey and Chris Jakicic offer in this book are tremendous. They walk readers through the PLC at Work process and provide ongoing support through weekly readings and opportunities for reflection. Leaders looking to support their collaborative teams will be well served to utilize this outstanding resource."