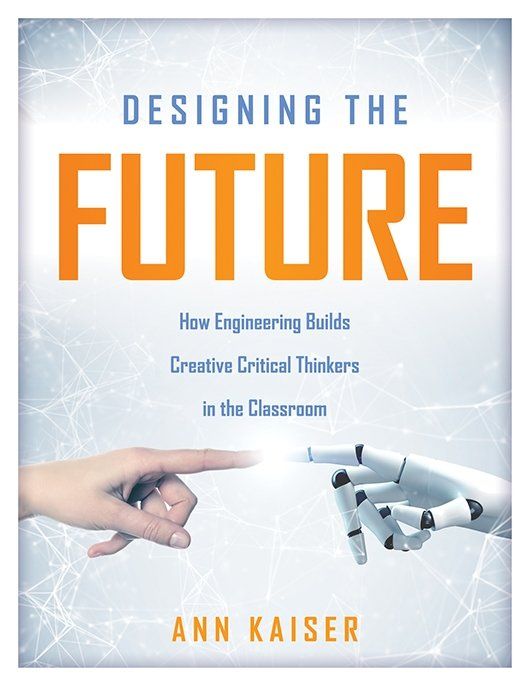 How Engineering Builds Creative Critical Thinkers in the Classroom
Encourage creativity, communication, innovation, and collaboration in students by incorporating engineering design process thinking into existing classwork. Gain strategies for supporting engineering practices that foster creative problem-solving and critical thinking.
Boost creative and critical thinking using the engineering design process
No matter the subject or grade, giving students engineering design process challenges encourages creativity, communication, innovation, and collaboration. In Designing the Future, author Ann Kaiser outlines how to enhance—not increase—what you are already teaching by implementing the engineering design process. Throughout the book, you will find more than 25 easy-entry, low-risk activities and projects you can begin incorporating into existing classwork.
Use the engineering design process for students to transform creative and critical-thinking classroom activities:
Explore the engineering design process (EDP) and unpack its stages: problem definition, research, brainstorming, prototyping, testing, and optimizing.
Understand how incorporating engineering for students creates a project-based learning environment that encourages essential 21st century skills, including creativity, innovation, and critical thinking.
Empower students to embrace the fundamentals of engineering design thinking, including: there is always more to learn, your solution will create problems, and there is no one right answer.
Learn how to develop and adapt engineering design process projects for various grade levels and disciplines.
Receive reflection tools that will empower you to revise and re-engineer activities and projects.
Incorporate elements of engineering and STEAM education lesson plans into your current classroom content.
Related Topics
21st Century SkillsInstructionStudent Engagement
---
Additional Information
Product Code: BKF853
ISBN: 9781947604551
Published By: Solution Tree
Page Count: 248
"Ann Kaiser provides educators with a deep understanding of what it means to think and act like an engineer. She starts with ideas about how to build a classroom culture in which engineering can flourish regardless of subject matter and takes us through a detailed and practical approach for getting started. She includes many templates and design models to imitate as teachers personalize the approach for their students. Part 2 of the book is full of activities and projects that can take as little as twenty minutes or as long as a semester or a year, with many options in between. As I read this, I found many connections to our work with Habits of Mind and Personalized Learning. I can't wait to recommend it to my colleagues and clients!"
"Designing the Future is a blueprint for a successful and meaningful STEM program. As superintendent of schools, I chose to use part of my budget to fund Ann Kaiser as a consultant to work with 93 schools to change the way instruction is delivered. Her book details how she proceeded to be a change agent who influenced student learning so there was a desire to learn to succeed.

"In her book, there are detailed rubrics for identifying the expectations to be met in the engineering design process. While the entire book is an educator's wish come true, my favorite part is the activities and projects. I have observed Ann teaching teachers and teaching students how engineering is integrated in all subject areas. She carefully expresses how to learn from failure, how to know your problem, how to know your options, how to develop a solution, and most importantly, how to go forward. Through her book, Ann helps students in all subject areas to think like engineers and to collaborate and work together so synergy is increased through teamwork.

"Unequivocally, I can say that having Ann Kaiser as a consultant for the Archdiocese of Newark was one of the best investments that our school office has made. I would encourage all superintendents to read Designing the Future and decide for themselves. I assure you that you will not be disappointed. You will see learning through a different lens."