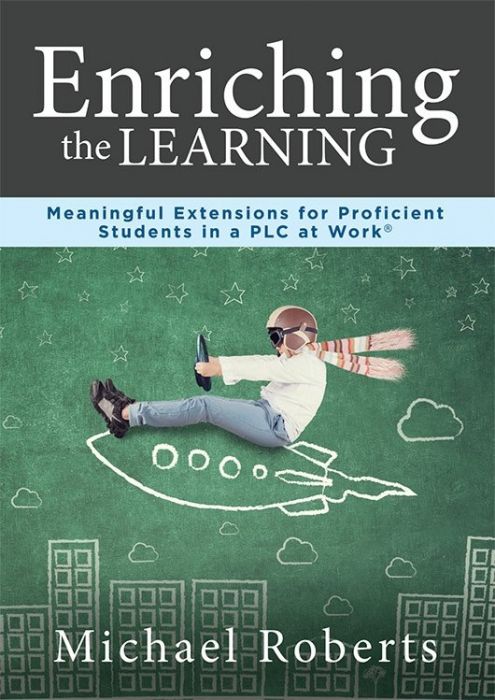 Meaningful Extensions for Proficient Students in a PLC at Work®
Effectively answer question 4 of the Professional Learning Communities at Work® process: How will we extend the learning for students who have demonstrated proficiency? Learn how to plan and execute lesson extensions—such as grouping students by interest—to engage proficient students for deeper learning.
Create extended learning opportunities for student engagement and enrichment
Rely on Enriching the Learning to help your school community answer critical question 4 of the Professional Learning Communities at Work® process: How will we extend the learning for students who have demonstrated proficiency? The book's wide range of student enrichment strategies, templates, and tools is designed to fully prepare collaborative teams to plan and execute engaging extensions for any subject area or grade level.
Lesson extensions and student engagement strategies for teaching proficient students in a PLC:
Develop an understanding of the fourth question of a Professional Learning Community (PLC) at Work® and why it is the most poorly addressed of the foundational PLC questions.
Understand the importance of engaging proficient students in extended lessons and continuing their education.
Learn how to differentiate instruction, enrich the curriculum, and build lesson extensions that will push proficient students to extend their abilities.
Become familiar with three different extension models (skill extensions, interest extensions, and social extensions) and numerous strategies for implementation that integrate student voice and choice.
Utilize the reproducible extension-planning templates and completed examples to build your own lesson extensions for personalized learning.
Related Topics
InstructionProfessional Learning Communities at Work®Professional Learning Communities
---
Additional Information
Product Code: BKF889
ISBN: 9781947604674
Published By: Solution Tree
Page Count: 128
"Question 4 of the PLC process, which focuses on providing differentiation and enrichment for proficient students, has generally been underrepresented in the administrator and teacher resources for PLC schools. Michael Roberts's book, Enriching the Learning, is a treasure trove of research-based but very practical suggestions for providing resources and services to advanced-level students."
"PLC's fundamental purpose of ensuring high levels of learning for all students includes the students who have already mastered grade-level essential standards. Michael Roberts has written an excellent resource that shows how to stretch learning through skill, interest, and social extensions. Beyond theory, this book provides the tools and examples to put research into practice. I highly recommend this book for any school committed to becoming a true PLC."
"Enriching the Learning is a wonderful addition to the professional learning community library. Many collaborative teams state that it is a challenge to address PLC critical question 4, which addresses responding to students who already know the material. When teams neglect to plan for ways to challenge this group of students, we are not meeting the needs of all learners. Thankfully, this book offers ideas, strategies, and tools for educators to provide students with extensions that are oriented around skills, interests, and social-emotional learning. The challenges and accompanying solutions, sample lesson plans, and planning templates in this book provide clear direction to teachers and teams as they make a commitment to learning for all.