The Summit on RTI at Work™
$829.00

per person for teams of 5 or more
There is a universal truth—an undeniable fact—that impacts every student and educator, in every classroom, at every school: all students do not learn the same way. As educators, we can assume that by the end of every daily lesson, unit of study, grading term, and school year, some students will not have mastered all the essential curriculum they have been taught. For any school or district truly dedicated to equity and ensuring all students learn at high levels, responding effectively when students struggle—especially now, due to the impact of the COVID-19 pandemic on student learning—is top of mind.
Response to Intervention (RTI/MTSS) is proven to be the best way to systematically respond when students don't learn. According to acclaimed researcher John Hattie, RTI has an exceptional impact rate of 1.29 standard deviations of growth per year, which is equivalent to two to three grade levels of growth in a single school year (2020). RTI is not a series of implementation steps to cross off on a list, but an ongoing, collaborative process to ensure each child receives the time and support needed to achieve success. Our RTI at Work™ approach—which is built upon the proven PLC at Work® process—leverages the expertise of the entire school staff to ensure high levels of achievement for all students.
Deepen your expertise with sessions on behavior, scheduling, English learners, leadership teams, progress monitoring, and more designed to increase individual and collective efficacy. Learn directly from experts and practitioners who have firsthand experience implementing the RTI at Work process.
Attending the Summit on RTI at Work will allow teams to:
Move beyond survival mode and prepare both new and veteran teachers to support students who have fallen behind grade-level expectations
Create and target time in your master schedule for interventions, intensive remediation, and extension
Identify grade- or course-specific essential content, skills, and behavior
Acquire practical solutions to current roadblocks and challenges that your school is facing
Apply research-based behavior/SEL interventions
Forge team bonds and comradery as you work to craft an intentional intervention plan that explicitly articulates actionable steps
Effectively deal with resistance
Create and propel productive habits and routines to ensure every student's learning needs are met
Create a school leadership team to steer the shift to a culture of collective responsibility
Develop a culturally responsive plan for English learners and underserved students
Build a highly effective Tier 1 in the classroom
Gain proven intervention strategies for math and literacy
Build a schoolwide intervention team to address complex issues such as motivation, attendance, and behavior
Stay focused as new challenges arise
Explore a method for aligning instruction and assessments with a laser focus on prioritized standards
Gain ideas for actively connecting students to their goals for learning
Teach students agency and ownership of their learning
Learn from leading experts
Keynote speakers
Agenda and speakers are subject to change.
Onsite Solution Tree Bookstore Open Throughout Event
Monday, February 19th
| | |
| --- | --- |
| 6:30–8:00 a.m. | Registration and Continental Breakfast |
| 8:00–9:30 a.m. | Keynote |
| 9:30–9:45 a.m. | Break |
| 9:45–11:00 a.m. | Concurrent Keynotes |
| 11:00 a.m–12:30 p.m. | Lunch (on your own) |
| 12:30–2:00 p.m. | Breakouts |
| 2:00–2:15 p.m. | Break |
| 2:15–3:30 p.m. | Keynote |
Tuesday, February 20th
7:00–8:00 a.m.

Registration and Continental Breakfast

8:00 –9:30 a.m.
Keynote
9:30–9:45 a.m.

Break

9:45–11:00 a.m.
Concurrent Keynotes
11:00 a.m–12:30 p.m.

Lunch (on your own)

12:30–2:00 p.m.

Breakouts

2:00–2:15 p.m.

Break

2:15–3:15 p.m.

Panel Discussion
Q&A with keynote presenters, who provide practical answers to your most pressing questions
Wednesday, February 21st
| | |
| --- | --- |
| 7:00–8:00 a.m. | Continental Breakfast |
| 8:00–9:30 a.m. | Keynote |
| 9:30–9:45 a.m. | Break |
| 9:45–11:30 a.m. | Keynote |
Events reach capacity quickly. Please confirm your registration before making travel plans.
Parking information:
Austin Convention Center
Hotel overnight self-parking: discounted 30% off prevailing rate. Daily self-parking $20.
All rates are per day and subject to change.
In order to receive the discounted hotel room rate, please mention Solution Tree. After the deadline listed below, rates will be determined by the hotel.
---
Primary Hotel
Hilton Austin
500 E 4th St
Austin, TX 78701
512.482.8000
Discounted Rate: (single or double) $279 per night
Deadline: January 21, 2024 or until group rate is sold out.
Online reservations
Venue
Austin Convention Center
500 E Cesar Chavez St
Austin, Texas
---
Participation Information
You will receive a certificate of participation 6 weeks after the event concludes. Please check with your department of education for CEU availability.
---
On-Site Solution Tree Book Co-op Discounts
Buy 5 or more Solution Tree titles or resources and receive 30% off and free shipping
On-site book co-op open daily throughout the event
Discounts above are for on-site purchases only. Does not include any non-Solution Tree product, toolkit, or sale table items. Purchase orders and credit cards accepted onsite. Continental US only.
---
Additional Information
---
Included with your registration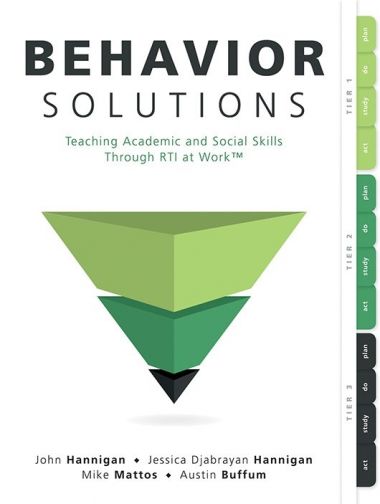 Take strategic action to close the systemic behavior gap with the support of Behavior Solutions. Foster social-emotional learning (SEL) by utilizing the PLC at Work® and RTI at Work™ processes to boost student metacognition and create an action plan for meeting their psychological needs.
We're enhancing your event experience. In addition to providing presentations in digital format, Solution Tree is publishing retail-quality, perfect-bound notebooks expertly designed to support your learning. Any printed handouts or worksheets integrated into your sessions will continue to be provided.