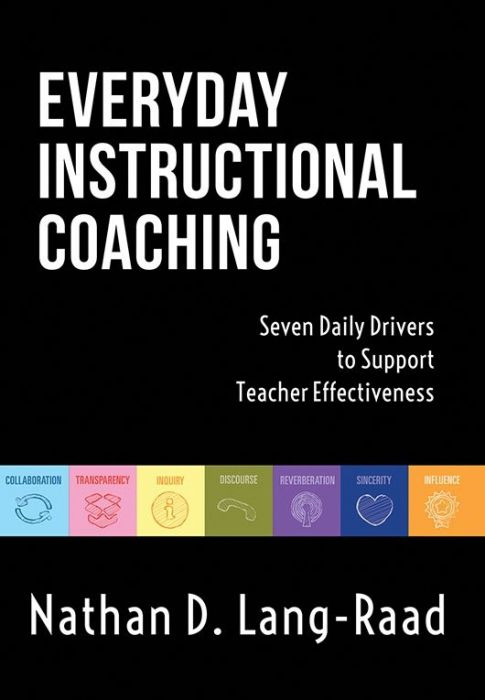 Everyday Instructional Coaching
Seven Daily Drivers to Support Teacher Effectiveness
Coaching teachers in schools is integral to supporting effective teaching methods. This teaching resource provides practical instructional coaching strategies for teachers and educators.
Publication date:
Only %1 left
Instructional leadership and coaching strategies for teacher support
Instructional coaches play a crucial role in helping educators meet the ever-changing demands placed on teaching and learning. With this practical guide, coaches will discover seven drivers they can use to best support teachers in their daily work: (1) collaboration, (2) transparency, (3) inquiry, (4) discourse, (5) reverberation, (6) sincerity, and (7) influence. Each chapter offers instructional coaching strategies, research, and examples to help readers evaluate, refine, and implement these drivers in their educational coaching practices.
Learn daily practices for instructional coaching that supports teachers and effective teaching methods:
Explore the seven daily drivers necessary to become a more effective instructional coach.
Gain strategies to strengthen relationships and improve outcomes with teachers and teacher teams.
Access tools to help self-assess and adjust daily coaching practices.
Understand the sociocultural psychology and education research that support the seven daily drivers.
Learn approaches you can use to keep pace with the demands on today's educators, coaches, and instructional leaders.
Related Topics
---
Additional Information
Product Code: BKF802,EKF395
ISBN: 9781945349485
Published By: Solution Tree
"What a great book to support collaboration among passionate educators! Everyday Instructional Coaching describes seven critical drivers that dig deeply into the humanity of instructional support in schools and classrooms. I recommend this book for coach development programs and critical dialogue about the everyday work of instructional coaching."
"This book is a great balance of practical tips, philosophy, and immediate takeaways with tools such as surveys.... This was such an easy read and a powerful tool for both new and existing coaches."