Free Reproducibles
Problems-First Learning
Fully engage students by first introducing a problem and then empowering learners to solve it using creativity, innovation, collaboration, and other essential skills. Gain instructional methods that foster whole-mind learning, boost student engagement, and prepare learners for the modern workforce with 21st century skills.
Benefits
Identify the need for instructional change in the current educational system.
Consider the transferrable skills students need for solving problems in the workplace and in life outside the classroom.
Study the benefits of a problems-first teaching style.
Learn to implement problems-first methods into existing classrooms.
Understand how this method teaches seven essential 21st century skills highly desired in the modern workforce.
Discover how to introduce role-play into the classroom and broaden lessons to encompass whole-mind learning and boost student engagement.
Get your copy today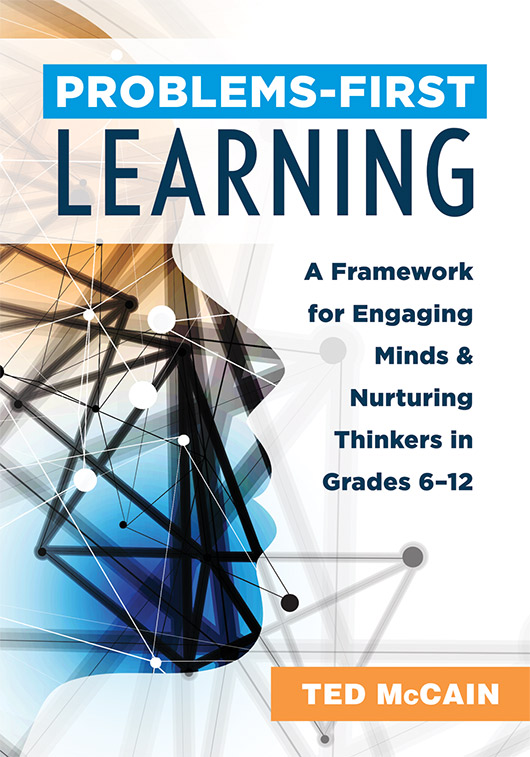 ---
TABLE OF CONTENTS
Part One: Understanding New Needs and a New Approach for a Digital Generation
Chapter 1: The New Needs of a Changing Generation
Chapter 2: The Thinking and Processing Skills Students Need for the Future
Chapter 3: The Key to a New Approach
Part Two: Learning How to Create Problems-First Projects
Chapter 4: Envision a New Role for the Teacher
Chapter 5: Ensure That Problems Are First and Teaching Is Second
Chapter 6: Establish a Real-World Link Using Role-Play
Chapter 7: Equip Students With the Four Ds of Problem Solving
Chapter 8: Expand Your View of the Curriculum
Chapter 9: Elevate the Students' Level of Thought
Chapter 10: Educate the Whole Mind
Chapter 11: Evaluate Holistically
Chapter 12: Ease Yourself Out of the Picture
Part Three: Making the Shift to Problems-First Teaching
Chapter 13: Pointers for Shifting to a Problems-First Approach
Chapter 14: Examples of Problems-First Lesson Plans
STUDY GUIDE
PRINTABLE REPRODUCIBLES
SUGGESTED RESOURCES
Books
McNeece, A. (2020). Loving what they learn. Bloomington, IN: Solution Tree Press.
Reeves, D., & Reeves, B. (2017). The myth of the muse: Supporting virtues that inspire creativity. Bloomington, IN: Solution Tree Press.
Websites