Free Reproducibles
Building Great Mental Health Professional–Teacher Teams
Learn how teachers, school counselors, psychologists, and social workers can harness their collective power to support the complex needs of students through meaningful team building. Foster productive social-emotional learning (SEL) that promotes a whole-child education.
Benefits
Discover how cognitive science and neuroscience can help educators better understand challenging students and plan interventions.
Understand why teams, rather than just groups, matter and how they can achieve true team cohesion through practical advice for connection building and goal setting.
Develop greater sensitivity to the needs of a diverse array of students, and discover ways to build trust, respect, and inclusivity within schools.
Learn how to examine and resist one's own implicit biases.
Gain a deeper understanding of how social-emotional learning (SEL) positively impacts students and classrooms and how to incorporate it into everyday instruction.
Access professional development activities designed to help teams enact each chapter's content and strengthen the group dynamic.
Get your copy today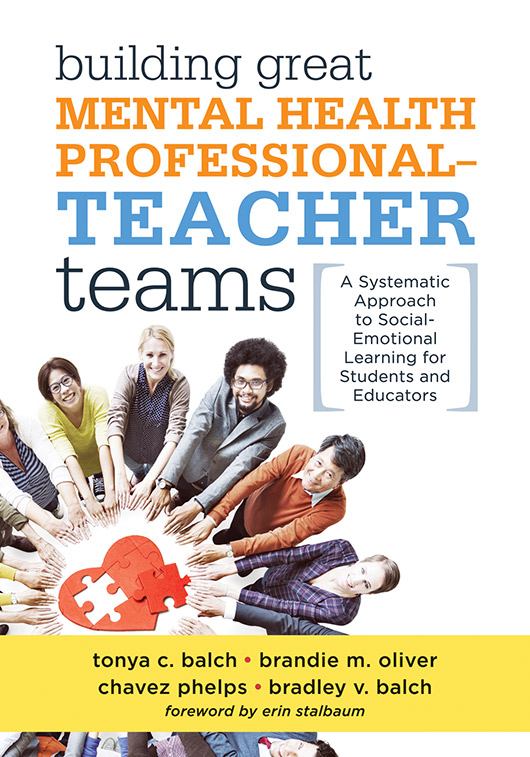 ---
TABLE OF CONTENTS
Chapter 1: Social-Emotional Risk Factors
Chapter 2: Mindfulness
Chapter 3: Growth Mindset and Resilience
Chapter 4: Trauma-Informed School Practices
Chapter 5: Restorative Practices
Chapter 6: Dysregulated Students and Intervention Implementation
Chapter 7: Solution-Focused Brief Therapy
Chapter 8: Safety and Implicit Bias
Chapter 9: Educator Well-Being
Chapter 10: The Future of the Mental Health Professional-Teacher Team
PRINTABLE REPRODUCIBLES
Introduction
Chapter 1
Chapter 2
Chapter 3
Chapter 4
Chapter 5
Chapter 6
Chapter 7
Chapter 8
Chapter 9
Chapter 10
SUGGESTED RESOURCES
BOOKS
Balch, T. C., & Balch, B. V. (2019). Building great school counselor–administrator teams: A systematic approach to supporting school, staff, and the community. Bloomington, IN: Solution Tree Press.
Boogren, T. H. (2018). Take time for you: Self-care action plans for educators. Bloomington, IN: Solution Tree Press.
Boogren, T. H. (2020). 180 days of self-care for busy educators. Bloomington, IN: Solution Tree Press.
WEBSITES