Free Reproducibles
Equitable Instruction, Empowered Students
A Teacher's Guide to Inclusive and Culturally Competent Classrooms
Author Carissa R. McCray offers instructional practices for teachers and educators that encourage students to tear down the injustices surrounding them by providing the tools to combat biases inherent in education.
Benefits
Understand the injustices inherent in education
Design a curriculum that fosters equity and justice
Create a classroom environment where any student can feel safe and heard
Enact both a mission and a vision in pedagogical practices
Enable effective communication with both students and families
Provide diverse assessments that address every type of learner
Get your copy today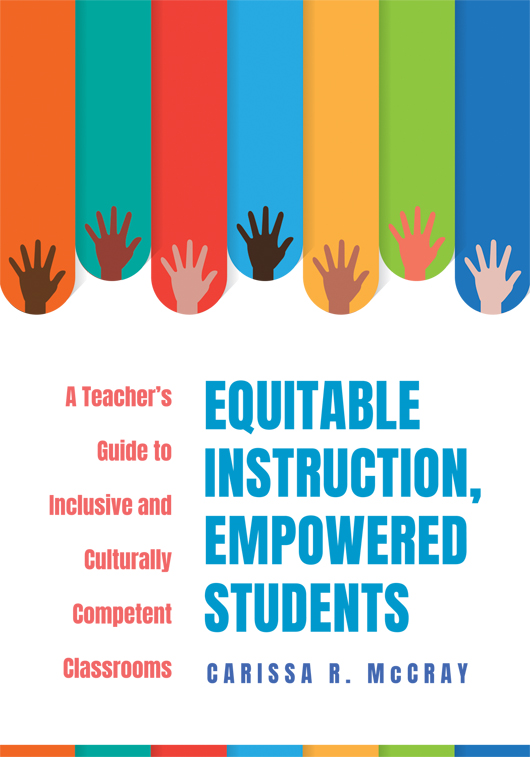 ---
Table of Contents
Part 1: Building a Culture of Opportunity
Chapter 1: Becoming Culturally Competent
Chapter 2: Transforming the Curriculum
Chapter 3: Shaping Classroom Culture
Part 2: Speaking the Language of Freedom
Chapter 4: Articulating Your Purpose, Vision, and Mission
Chapter 5: Communicating With Students
Chapter 6: Engaging With Families
Part 3: Assessing at Cultural Intersections
Chapter 7: Understanding Intersectionality
Chapter 8: Diversifying Assessments
Chapter 9: Committing to Reflection, Professional Development, and Modification
Epilogue
Appendix: Aligning With Teacher Evaluations
REPRODUCIBLES
Chapter 2
Chapter 3
Chapter 4
Chapter 5
Chapter 6
Chapter 9
Appendix
SUGGESTED RESOURCES
Books
Hierck, T. (2017). Seven keys to a positive learning environment in your classroom. Bloomington, IN: Solution Tree Press.
Websites