Free Reproducibles
Ambitious Instruction
A resource guide for increasing rigor in the classroom and complex problem-solving
Ensure all learners have opportunities to engage deeply in meaningful intellectual work. In Ambitious Instruction, author Brad Cawn offers a blueprint for how to make rigor visible, accessible, and actionable in grade 6–12 classrooms. The resource guides readers toward using the twin tenets of problem-based learning and synthesis to significantly strengthen students' ability to read, write, and think within and across disciplines.
Benefits
Develop a working understanding of rigor that will serve as the basis for rigorous, instructional excellence.
Discover how to integrate inquiry and dialogue into your instruction to help learners engage in meaningful exploration of complex problems.
Become familiar with actionable strategies that can be utilized to develop and increase rigor in the classroom.
Learn how to create and organize tasks, texts, and processes in order to improve teaching and learning.
Get your copy today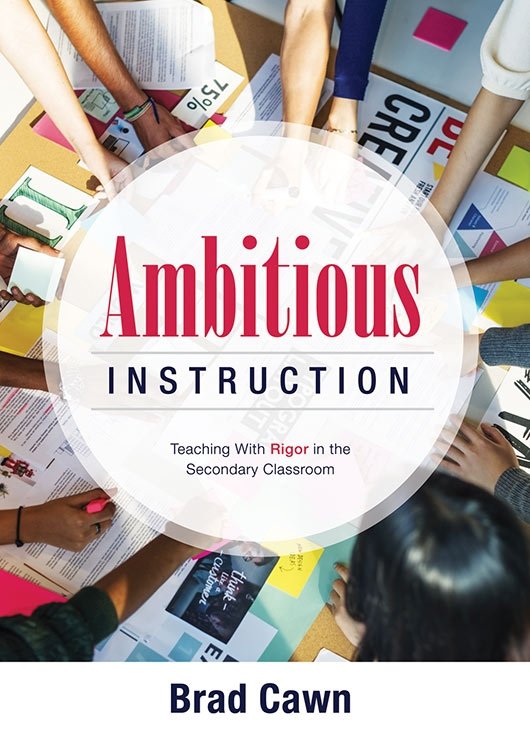 ---
TABLE OF CONTENTS
Introduction: Redefining Rigor
Chapter 1: Getting Started on Ambitious Instruction—Building Curriculum Around Problems
Chapter 2: Planning Ambitious Instruction—How to Connect Problems to Practice
Chapter 3: Implementing Ambitious Instruction
Chapter 4: Facilitating Ambitious Instruction
Chapter 5: Supporting and Sustaining Ambitious Instruction

REPRODUCIBLES
SUGGESTED RESOURCES
Books
Cawn, B. (2016). Texts, Tasks, and Talk: Instruction to Meet the Common Core in Grades 9–12. Bloomington, IN: Solution Tree Press.
Depka, E. (2017). Raising the Rigor: Effective Questioning Strategies and Techniques for the Classroom. Bloomington, IN: Solution Tree Press.
Websites