Free Reproducibles
Cardboard Classroom
A Design-Thinking Guide for Elementary Teachers
How can elementary educators create a learning environment that is conducive to creativity, critical thinking, and student ownership of learning? By implementing design-minded real life examples in the classroom. All while achieving positive student learning outcomes.
Benefits
Discover why design thinking is more the identity of the teacher than instructional strategy
Learn how design-minded teaching advances student learning and improves engagement
Study real-world examples and experiences of the design process in action
Receive comprehensive examples of projects you can utilize and adapt to fit your classroom's needs
Obtain reproducible tools and templates to enhance your understanding of the material
Get your copy today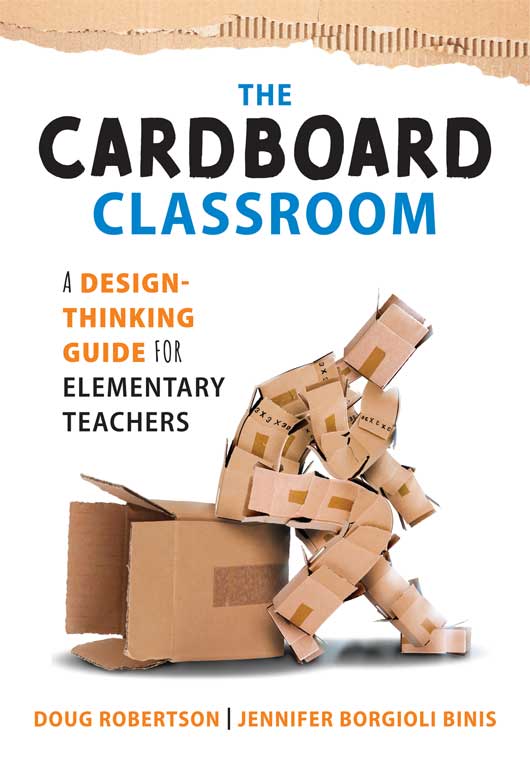 ---
TABLE OF CONTENTS
Introduction: Lightning and Thunder
Chapter 1: But Seriously, What Does Design Minded Mean? An Overview of Design-Minded Teaching
Part 1: Putting Design-Minded Teaching Into Practice
Chapter 2: Define: What's the Problem? What's the Goal?
Chapter 3: Design: How Can We Solve the Problem?
Chapter 4: Build: How Do We Create a Solution?
Chapter 5: Test and Revise: What Happens When We Try Out the Solution and Respond to Data?
Chapter 6: Reflect: What Did We Learn?
Chapter 7: Put It Into Practice
Part 2: Becoming a Design-Minded Teacher
Chapter 8: Specific Designs
Chapter 9: Assessment in the Design-Minded Classroom
Chapter 10: Cure-Alls, Buy-In, and Trust
PRINTABLE REPRODUCIBLES
Chapter 1
Chapter 2
Chapter 3
Chapter 4
Chapter 5
Chapter 6
Chapter 7
Chapter 8
Chapter 9
SUGGESTED RESOURCES
BOOKS
Fisher, D., & Frey, N. (2015). Unstoppable learning: Seven essential elements to unleash student potential. Bloomington, IN: Solution Tree Press.
Kaiser, A. (2020). Designing the future: How engineering builds creative critical thinkers in the classroom. Bloomington, IN: Solution Tree Press.
Marzano, R. J., & Marzano, J. S. (2015). Managing the inner world of teaching: Emotions, interpretations, and actions. Bloomington, IN: Marzano Resources.
Parrish, N. (2022). The independent learner: Metacognitive exercises to help K–12 students focus, self-regulate, and persevere. Bloomington, IN: Solution Tree Press.
Wiliam, D. (2011). Embedded formative assessment. Bloomington, IN: Solution Tree Press.
Wiliam, D. (2018). Embedded formative assessment (2nd ed.). Bloomington, IN: Solution Tree Press.
WEBSITES