Free Reproducibles
What STEM Can Do for Your Classroom
Improving Student Problem Solving, Collaboration, and Engagement, Grades K–6
This book will help you teach creativity through STEM, focusing on authentic student collaboration and choice while offering examples and field-tested strategies for how to get there.
Benefits
Understand the benefits and importance of STEM in elementary schools
Build resiliency and curiosity in students
Discover a variety of classroom instruction strategies to approach STEM assessment
Read vignettes discussing STEM implementation across grade levels
Use new strategies to engage and motivate student learning through voice and choice
Get your copy today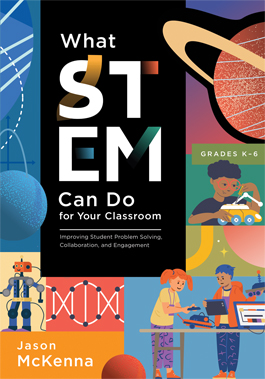 ---
TABLE OF CONTENTS
Part One: Start STEM Early
Chapter 1: Inspiring Students With STEM Narratives
Chapter 2: Teaching STEM in Elementary School
Part Two: Discover STEM Learning Principles
Chapter 3: Focusing on Authentic Engagement, Choice, and Collaboration
Chapter 4: Creating Risk Takers
Part Three: Explore STEM Pedagogy
Chapter 5: Exploring STEM Teaching and Guided Discovery Learning
Chapter 6: Making Assessment Student Centered in Elementary STEM Classrooms
Chapter 7: Exploring STEM and Creativity
Chapter 8: Bringing It All Together
Epilogue
PRINTABLE REPRODUCIBLES
SUGGESTED RESOURCES
BOOKS
Cooper, D. (with Catania, J.). (2022). Rebooting assessment: A practical guide for balancing conversations, performances, and products. Bloomington, IN: Solution Tree Press.
DuFour, R., DuFour, R., Eaker, R., Many, T. W., & Mattos, M. (2016). Learning by doing: A handbook for Professional Learning Communities at Work (3rd ed.). Bloomington, IN: Solution Tree Press.
Kise, J. A. G. (2021). Doable differentiation: Twelve strategies to meet the needs of all learners. Bloomington, IN: Solution Tree Press.
Ripley, D. (2022). The tactical teacher: Proven strategies to positively influence student learning and classroom behavior. Bloomington, IN: Solution Tree Press.
Wiliam, D. (2018b). Embedded formative assessment (2nd ed.). Bloomington, IN: Solution Tree Press.
WEBSITES