Free Reproducibles
Authentic Literacy Instruction
Empowering Secondary Students to Become Lifelong Readers, Writers, and Communicators
Imagine a thriving English classroom. One that's active, experiential, collaborative, and rigorous. Authentic Literacy Instruction will help you not just imagine this classroom, but also create it. Use the book's doable action plan to reinvigorate your practices and tap into the passions and strengths of every student.
Benefits
Understand what authentic literacy is and why it's important.
Transform your classroom into an authentic literacy community.
Develop your own expertise as a teacher reader and teacher writer.
Establish classroom routines that make authentic literacy part of daily practice.
Teach individual students and help them identify as lifelong readers and writers.
Get your copy today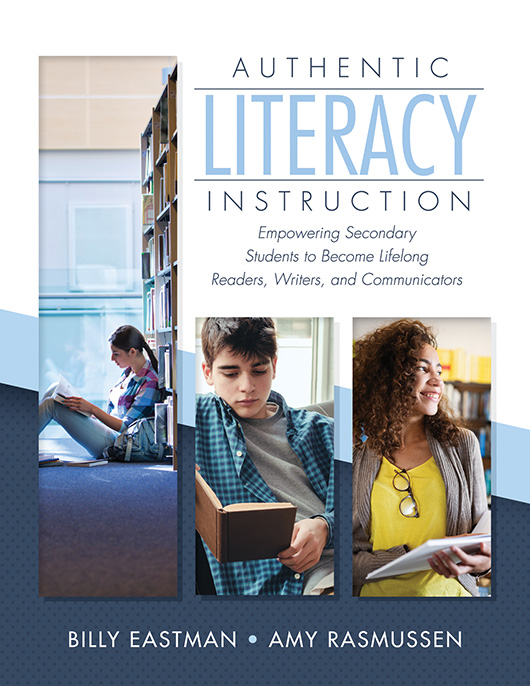 ---
Table of Contents
Chapter 1: Authentic Literacy
Chapter 2: Teacher as Authentic Literacy Expert
Chapter 3: Relationships and Community in the Authentic Literacy Classroom
Chapter 4: Promotion of Student Choice for Greater Outcomes
Chapter 5: Student Application of Literacy Skills
Chapter 6: Feedback in the Authentic Literacy Classroom
Chapter 7: Classroom Routines That Build Authentic Reading and Writing Habits
Epilogue
Appendix
Reproducibles
Chapter 1
Chapter 2
Chapter 3
Chapter 4
Chapter 5
Chapter 6
Chapter 7
Suggested Resource
Books
DuFour, R., DuFour, R., Eaker, R., Many, T. W., & Mattos, M. (2016). Learning by doing: A handbook for Professional Learning Communities at Work (3rd ed.). Bloomington, IN: Solution Tree Press.
McDowell, M. (2020). Teaching for transfer: A guide for designing learning with real-world application. Bloomington, IN: Solution Tree Press.
Websites