A highly anticipated companion to the wildly popular HEART!, SOUL! empowers educators to take another giant leap toward fulfilling their professional promise. This self-reflection resource offers professional wellness tips and strategies that foster a collaborative, positive school culture, leading to increased teacher efficacy.
Benefits
Become more confident, joyful, whole, healthy, and balanced in your professional life.
Explore the four actions of SOUL—searching, overcoming, unifying, and living—that will help you sustain a fulfilling professional life.
Learn the concept of a soul story, diving into what it is and why it is so important to your well-being and emotional health.
Understand your own soul story, and reflect on how you can use it to create good in others.
Learn how to overcome challenges and obstacles that hinder you from fulfilling your soul story.
Discover how to create a positive, thriving school culture focused on meaningful relationships and collaboration.
Get your copy today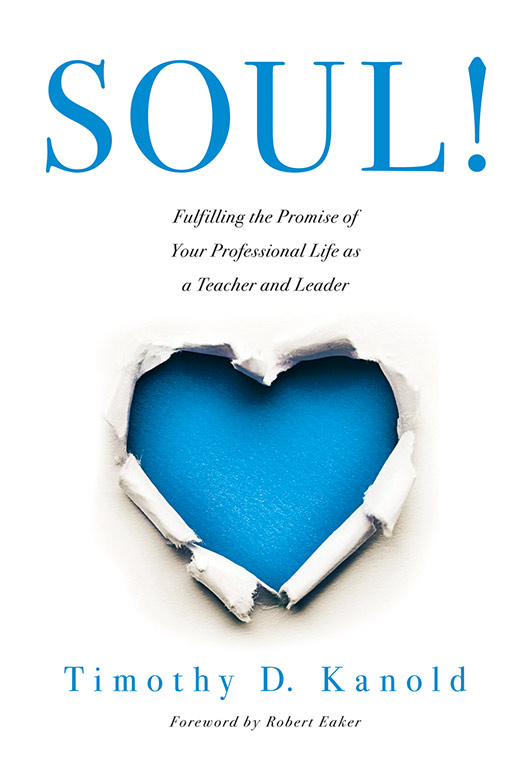 ---
Table of Contents
Part 1: Developing Your SOUL Story—S Is for Searching
Chapter 1: The Soul Asks, "Now What?"
Chapter 2: A Perfect Pair—Heart and Soul
Chapter 3: In Loco Parentis
Chapter 4: In the Name of Social Justice
Chapter 5: The Second Mountain
Chapter 6: No Compassion, No Soul
Chapter 7: The Soul Story Whisperers
Final Thoughts: The PLC Life Is a Seeking-Systems Life

Part 2: Developing Your SOUL Story—O Is for Overcoming
Chapter 8: Lost and Overwhelmed
Chapter 9: The Shallows
Chapter 10: SASHET
Chapter 11: Anger Never Wins
Chapter 12: Good Enough, for Now
Chapter 13: The Road Less Hardened
Chapter 14: A Season of Obstacles
Final Thoughts: The PLC Life Is a Corrosion-Free Life

Part 3: Developing Your SOUL Story—U Is for Unifying
Chapter 15: E Pluribus Unum—Thriving in Community
Chapter 16: Beyond Bricks and Mortar—Belonging
Chapter 17: Beyond Collaboration—Intimacy
Chapter 18: Beyond Collegiality—Vulnerability
Chapter 19: Beyond Tolerance—Validation
Chapter 20: Beyond School—Community Engagement
Chapter 21: The Quietude Quest
Final Thoughts: The PLC Life Is a Balanced, Unified Life

Part 4: Developing Your SOUL Story—L Is for Living
Chapter 22: The Date Always Arrives
Chapter 23: Carpe Diem
Chapter 24: Mirror, Mirror
Chapter 25: Soul Story Courage
Chapter 26: Joy, Gratitude, and Grace
Chapter 27: One More Trip Around the Sun
Final Thoughts: The PLC Life Is a Bene Life
SUGGESTED RESOURCES
Books
Kanold, T. D. (2017). HEART! Fully forming your professional life as a teacher and leader. Bloomington, IN: Solution Tree Press.
Muhammad, A., & Cruz, L. F. (2019). Time for change: 4 essential skills for transformational school and district leaders. Bloomington, IN: Solution Tree Press.
Websites