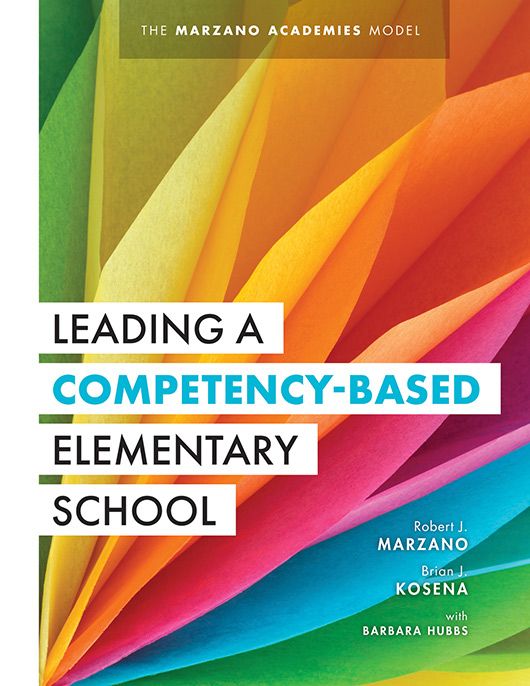 Leading a Competency-Based Elementary School
The Marzano Academies Model
Implement effective competency-based education in elementary schools and lead them to academic achievement with the help of this valuable guide by Robert J. Marzano and Brian J. Kosena with Barbara Hubbs.
Publication date:
Only %1 left
Become a high-performing elementary school through competency-based education
Transition from a traditional school to a high reliability organization that ensures students master academic, cognitive, and metacognitive skills and knowledge. Rooted in decades of research, this valuable guide outlines how K–5 leaders can implement an effective competency-based education system. You'll employ 16 leading indicators to measure your school's high reliability status and discover a process to create and address lagging indicators based on collected data.
Use this book to:
Understand why competency-based education drives school effectiveness and school improvement.
Discover how to shift from traditional practices to competency-based learning and data-driven instruction.
Review 16 school-level indicators implemented by Marzano Academies schools.
Learn how to collectively monitor student learning and respond to lagging indicators.
Receive and adapt research-based strategies and tools to address your school's specific needs.
---
Additional Information
Product Code: BKL054, EKL044
ISBN: 9781943360413
"Competency-based learning offers schools a way to promote deeper learning by shifting the focus from time on task to evidence of mastery. This book focuses on the leadership that is necessary to help a school community on its journey toward the development of a high-reliability competency-based system that will challenge students at all levels. The use of the Marzano Academies model with its sixteen indicators provides a framework to help readers successfully execute their plan in their organization regardless of the barriers to implementation that may exist. This book is a must-read for any educator who is engaged in this important redesign work."
"The practical strategies and direction in this book make it a must-read--not just for anyone interested in becoming a Marzano Academy--but for anyone who wants to implement competency-based pathways in their current school or system. Marzano highlights the importance of modernizing instructional models to be competency-based. The book is an inspiration to get started and provides guidance for creating coherent, integrated approaches to student-centered learning. This guidance will help ensure all learners are prepared for bright futures."