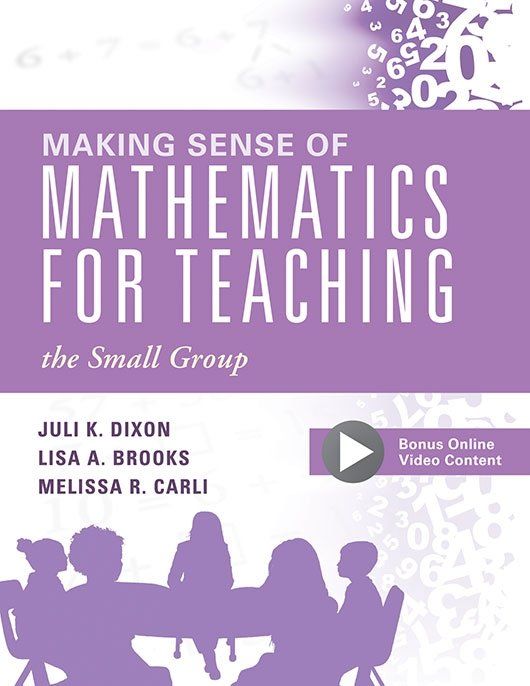 Making Sense of Mathematics for Teaching the Small Group
Make sense of effective characteristics of K–5 small-group instruction in mathematics. Connect new understandings to classroom practice through the use of authentic classroom video of pulled small groups in action. Use the TQE (Tasks, Questions, Evidence) process to plan time effectively for small-group instruction.
Publication date:
Only %1 left
Small-group instruction strategies to differentiate math lessons in elementary classrooms
When done right, small-group instruction is a powerful tool for facilitating student understanding in K–5 mathematics. Throughout the book, best practices for small-group math instruction are addressed in detail, from planning tasks that encourage deep understanding to asking effective questions to engaging learners in meaningful conversations. Readers will learn how teaching mathematics in small groups allows you to differentiate instruction for both remediation and enrichment. The included small-group instruction videos demonstrate the suggested strategies in a real-classroom setting, giving readers the opportunity to see best practice in action.
Develop math-specific instruction strategies for teaching small groups in elementary school:
Explore the benefits of small-group math instruction and how it can facilitate deep mathematical understandings.
Discover the teacher's and students' roles in small-group instruction and how teachers can help students develop the skills to fulfill their role.
Learn how to apply the Tasks, Questions, and Evidence (TQE) process to small-group instruction in order to enhance student learning and improve your knowledge of teaching mathematics.
View examples of small-group instruction and how the structure can support differentiation.
Related Topics
---
Additional Information
Product Code: BKF832, EKF425
ISBN: 9781947604049
Published By: Solution Tree
Page Count: 96
"Whether you've been teaching in small groups for years or are looking for structures to help you get started, Making Sense of Mathematics for Teaching the Small Group has ideas and tools to help you improve instruction. The authors provide thoughtful examples, including what teachers and students should be doing while working in small groups, ideas on how to support students without doing the thinking for them (via a comparison of just-in-case scaffolding and just-in-time scaffolding), and even instruction on how to set up a group's norm so that more time is spent discussing the tasks at hand. This book is a great companion for all mathematics teachers looking to facilitate small-group instruction."
"Leading effective small groups is both important and challenging work for teachers. How, when, and why do we lead small-group instruction so that students experience themselves as capable and confident mathematicians? Juli K. Dixon, Lisa A. Brooks, and Melissa R. Carli have written a book that will give readers tools, resources, and practical guidelines for making the most of small-group instruction. Their vivid examples bring these ideas to life and will help you grow your practice in powerful ways."
"This book addresses a huge need in elementary math classrooms! It shows teachers clear and effective strategies to continue to use small-group instruction but in a more effective way that will benefit student learning of mathematics. It would be easy to implement a book study with a group of teachers since the videos are so engaging and would elicit wonderful teacher discussions. The quantity and variety of videos make the use of best practices come alive for teachers and provide clear models for instructional improvement."