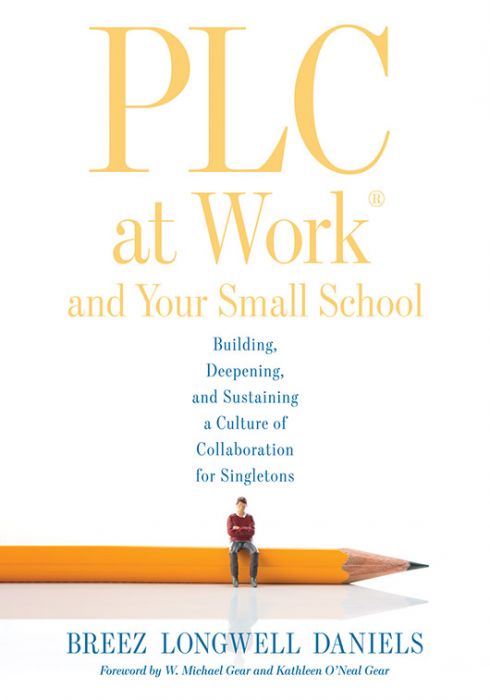 PLC at Work® and Your Small School
Building, Deepening, and Sustaining a Culture of Collaboration for Singletons
Learn how your small school can build a successful and effective professional learning community (PLC) while staying true to its rural, small-town roots. Help your rural area students achieve their academic goals.
An action guide for building an effective PLC system in a small school
Small schools can have a big impact. With the guidance of author Breez Longwell Daniels, an award-winning principal in Wyoming, you will learn how to build a successful professional learning community (PLC) in your small school. The resource addresses every key aspect of a PLC at Work® system and outlines how to drive immense academic success while staying true to your school's small-town roots.
Learn how to define your school's mission and vision in a way that both centers the school's role within the community and builds a foundation for a strong PLC.
Become familiar with how to develop a strong PLC school system in a small school or rural area that contains many singleton and shared teachers.
Learn how to effectively collect and use data to increase the effectiveness of your PLC system.
Study the research and real-world examples that support the strategies and concepts introduced in the book to help students meet their academic goals.
Related Topics
LeadershipProfessional Learning Communities at Work®Professional Learning Communities
---
Additional Information
Product Code: BKF937
ISBN: 9781949539615
Published By: Solution Tree
Page Count: 200
"Small-school leaders often feel like PLC is for bigger districts and schools. Daniels shows small-school leaders that they too can see success from developing and sustaining a PLC. This book will be tremendously helpful to small schools that may struggle with how to implement PLC tenets."
"Daniels recognizes the uniqueness and challenges that come with leading a small school and outlines a path to success using the PLC process. This is a go-to book for leaders of small schools who want to build their collaborative culture and bring their staff members together."