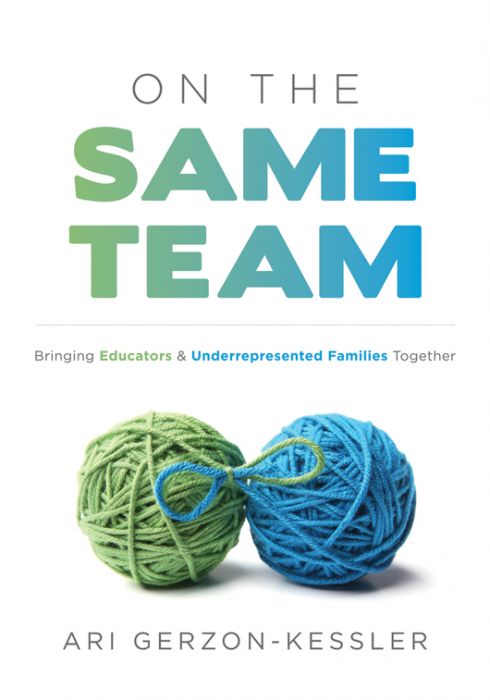 Bringing Educators and Underrepresented Families Together
The urgency for educators to commit to diversity and equity work in their schools calls for a framework that will help narrow achievement and opportunity gaps. This book offers the guidance you need to nurture strong family-school partnerships that are essential for student success.
Forge stronger ties with parents and guardians to overcome opportunity and achievement gaps.
Establish a sense of community and foundation of trust with parents and guardians. On the Same Team offers current research and real classroom examples to guide school and district leaders in building Families and Educators Together (FET) teams. Discover how the FET framework can help create strong family-school partnerships and foster a culture of inclusion and support for underrepresented groups.
This book will help K–12 leadership:
Differentiate between family involvement in schools and the authentic, mutually beneficial collaborative partnerships behind FET teams
Facilitate a successful and inspiring launch of the framework with key preparation steps
Prepare for common roadblocks and identify potential barriers to successful implementation
Foster the habits and skills behind a successful FET team leader
Use team-building activities, as well as sample email messages, questions to ask primary caregivers, calendars, timelines, and other practical resources
Related Topics
Diversity & EquityFamily & CommunityLeadership
---
Additional Information
Product Code: BKG115
ISBN: 9781958590010
Published By: Solution Tree
"Gerzon-Kessler leverages his decades of experience in schools, seamlessly blending the latest research in family engagement with practical guidance to help schools more effectively partner with families. On the Same Team walks readers through a step-by-step guide to implementing Families & Educators Together (FET) teams. Readers have the opportunity to learn not only from other schools' successes, but also their missteps, as the book highlights common obstacles and how to overcome them."
"For the past decade, Boulder Valley School District has intentionally integrated family, school, and community partnerships as a critical improvement strategy for student success. On the Same Team highlights the research-based approach of having a school-level action team—Families and Educators Together—to lead and guide high impact family engagement initiatives. This book provides real-life examples of school staff sharing leadership with families that lead to positive student outcomes. I recommend this book to any school, district, or state leader who is looking for a systematic approach to taking their family engagement efforts to the next level."
"This book begins with a thorough diagnosis of the reasons that family-school partnerships are not normative, despite evidence of the benefits for the learners, especially non-majority students. It is a daunting set of "symptoms." But few maladies can be reversed without a thorough and accurate diagnosis. That willingness to look honestly and deeply at what has not happened and why has enabled Ari Gerzon-Kessler to outline a key curative element: Families and Educators Together (FET) Teams. However, innovative solutions don't implement by themselves. Read this book, follow the practical guidance in it, and you will see the benefits for your students, their families, and your teaching staff.

The book begins with a compelling case for why achievement and opportunity gaps in our schools cannot be systematically eliminated in the absence of school-family partnerships. After the "why," Ari Gerzon-Kessler provides a detailed road map for the "what"—Families and Educator Together (FET) Teams—and the "how." You will learn—based on multiple years of experience in multiple schools-- about who should be on these teams, the groundwork needed for a strong launch, techniques for creating inspiring and effective FET meetings, and the role of leadership and amplifying parent voices in sustaining the momentum from FET teams. Ultimately, it is about putting out a genuine welcome mat for all families to truly enter the school and work in partnership with school personnel to educate the children they share. The extraordinary benefits that can result are more than cost-effective: they give new and positive life paths to children whose likely trajectories will otherwise be quite different. To quote one educator from the book: " It's not us and them; it is us together."