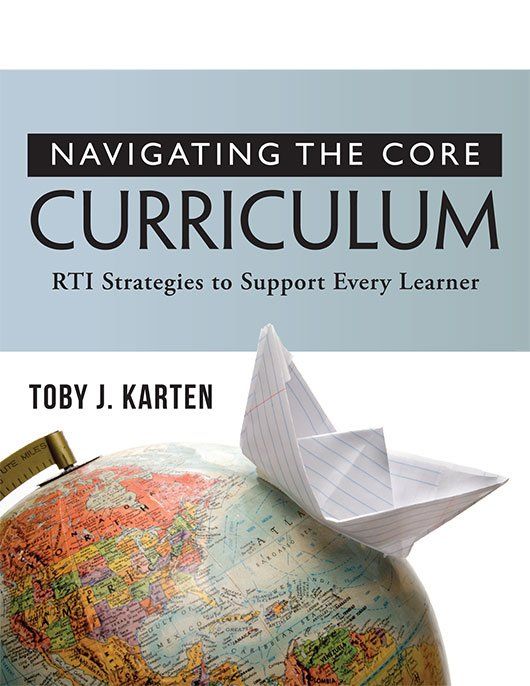 Navigating the Core Curriculum
RTI Strategies to Support Every Learner
Develop a deep understanding of the three tiers of RTI and gain access to example lesson plans tailored to diverse student skill sets.
Navigating the Core Curriculum
When educators plan instruction within an RTI framework, all K–12 learners can achieve core academic mastery across grades and disciplines. In this practical guide, the author identifies potential barriers to learning and establishes clear action plans for diminishing them. You'll deepen your understanding of the three tiers of RTI and gain access to example lesson plans tailored to diverse student skill sets.
Learn how to design multitiered lessons that honor diverse student literacy skill sets.
Study classroom-tested quarterly and monthly planners that afford opportunities for repetition and enrichment.
Examine how to best use evidence-based practice in K–12 classrooms.
Discover why confidence, competence, and collaboration are vital classroom components for helping students gain core mastery.
Consider lesson-plan templates that have multiple entry points for cultivating core skills.
Related Topics
InstructionResponse to Intervention
---
Additional Information
Product Code: BKF761
ISBN: 9781943874613
Published By: Solution Tree
"Toby Karten's latest road map to successful teaching in an inclusive environment, Navigating the Core Curriculum: RTI Strategies to Support Every Learner, offers teachers ready-to-use, practical strategies they can apply in any classroom. Substantive in content but highly readable, this is a must-have for teachers dedicated to using our profession's best practices to help all students reach their goals."
"Toby Karten's Navigating the Core Curriculum is the go-to book to fully understand and appreciate RTI, a multitiered framework that shapes instruction and assessment to support today's diverse learners. This user-friendly book offers readers a myriad of evidence-based practices, interventions, lessons, templates, websites, and other resources for immediate classroom application."
"Using practical, evidence-based scenarios and resources, Toby Karten provides a differentiated road map to help educators through the maze of RTI best practices. Based on ties to a strong core curriculum, Karten offers suggestions and directions to embark on a journey through multiple entry points that include examples of tiered interventions for literacy and mathematics, as well as the importance of engaging all learners to help students reach their full potential."
"Toby Karten's Navigating the Core Curriculum provides a blueprint for educators and administrators looking for support with core curriculum. The resources are detailed with ready-to-use applications that support the goal of RTI for both academic and behavior. This robust text bridges theory and practice with research-based instructional strategies teachers at any level can use."
"As educators, we are encountering more and more students who are struggling with learning at high levels. Toby Karten's new book, Navigating the Core Curriculum, emphasizes the need for a multitiered system of supports that keeps all students, at every level, actively engaged in the learning process. Karten's examples, lessons, and interventions are excellent starting points for any educator looking to build his or her toolbox of strategies to help all students succeed."
Free Resources
Explore these powerful tools to help reach your goals.