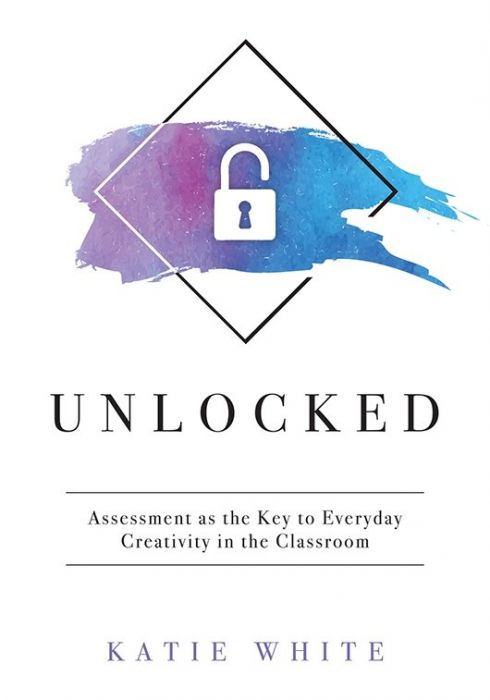 Assessment as the Key to Everyday Creativity in the Classroom
Learn how to develop creativity assessment practices that foster creative skills of students rather than just measuring creativity. This book by Katie White will help you design rich learning experiences and thoughtful assessments.
Add this eBook to your credit card purchase and gain immediate access.
eBooks are available on desktop, Android, and iOS via Adobe Digital Editions. eBook purchases are limited to one eBook per title, per account. Please visit the eBook FAQ for more information.
Publication date:
Only %1 left
Teaching and Measuring Creativity in the Classroom
Creativity enhances the quality of our lives, encouraging us to look deeper, search wider, and explore multiple perspectives. With Unlocked by Katie White, you'll discover how to effectively connect creativity and assessment of creativity within any classroom setting. A variety of practical ideas and tools helps you design rich, authentic learning experiences that encourage inquiry and creative development rather than compliance and "right" answers.
Learn how to develop creativity assessment methods that truly foster creativity:
Develop an understanding of the creative process and its four critical stages. Explore the numerous benefits of encouraging and developing students' creative thinking skills.
Examine, in depth, the connection between effective assessment and students' creative development.
Acquire concrete strategies for developing assessment methods (such as formative and self-assessment for learning) that unlock students' creative skills.
Access free online reproducibles and resources for teaching creative skills and assessing creativity in the classroom.
Related Topics
---
Additional Information
Product Code: BKF851, EKF444
ISBN: 9781947604513
Published By: Solution Tree
Page Count: 240
"This fantastic book highlights how we can tailor our assessment practices to support and promote creativity in our classes. A must-read for teachers of all subjects and school levels."
"The classroom of the 21st century is often a space where creativity plays second (or third) fiddle to the growing pressure to assess and report our students' learning. Unlocked is Katie White's follow-up to her inspirational 2017 debut, Softening the Edges; this time, she provides the key to unlock creativity in both the student and teacher. Unlocked redefines what exploration, experimentation, elaboration, and expression look and feel like in our classrooms. White invites readers to foster an inclusive and compassionate approach to teaching and assessment with a voice tempered with experience, reason, and passion. Her beautifully scripted anecdotes provide the foundation and framework to a deeply practical and profound guidebook for teachers of all ages and grades. Unlocked is the answer to anyone who questions if creativity can thrive in the ever-increasing standardized world of education."
"Katie White's refreshing approach to assessment through creativity will help move learning forward for all learners in the classroom. The narrative nature of the book pulls teachers in and invites them to think about how the intersection of assessment and creativity can build the competencies of lifelong learners."
"In Unlocked, Katie White opens our minds to explore the intricate dance of assessment with creativity. She inspires an embedded and collaborative assessment culture where the conversation overflows with words like creativity, exploration, engagement, feedback, passion, and my favorite—wonder. This book is a cornucopia of ideas and inspiration, helping teachers to confidently embrace a creative mindset in their assessment practice, supporting independent and invested learners."