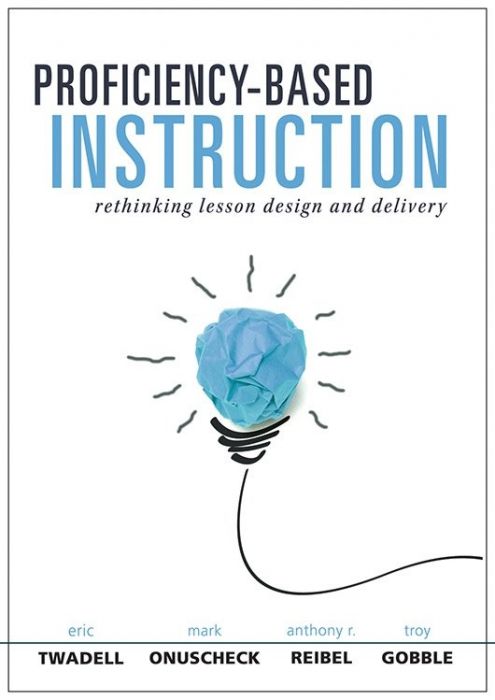 Proficiency-Based Instruction
Rethinking Lesson Design and Delivery
Gain a clear five-step process for fully and seamlessly transitioning to proficiency-based instruction (also known as evidence-based grading). Drive student self-efficacy and achievement with lesson and curriculum planning that focuses on real learning.
Your Implementation Strategy for Proficiency-Based Instruction
Only by shifting away from a one-size-fits-all approach to teaching and learning can every student achieve self-efficacy and true success in the classroom. In this resource, authors Eric Twadell, Mark Onuscheck, Anthony R. Reibel, and Troy Gobble provide educators with a comprehensive strategy implementation process for proficiency-based instruction. Readers will gain a clear five-step change management process for seamlessly transitioning to a new, improved model of instruction and curriculum planning in which individual student self-efficacy and growth come first.
Use this implementation strategy to transition to a proficiency-based instruction model for student self-efficacy:
Learn the benefits of switching from traditional instruction to proficiency-based instruction (also known as evidence-based grading).
Explore the process, concepts, and supporting pedagogy of proficiency-based instruction and curriculum planning.
Acquire a five-step implementation strategy: (1) preparation, (2) incubation, (3) insight, (4) evaluation, and (5) elaboration.
Gain change-management tools for carrying out each of the five steps as a collaborative team and onboarding all stakeholders in curriculum implementation.
Discover how one collaborative team successfully worked together to implement proficiency-based instruction and plan lessons.
Access free, online reproducibles that will support your shift to proficiency-based instruction and lesson planning.
Related Topics
---
Additional Information
Product Code: BKF838
ISBN: 9781947604179
Published By: Solution Tree
Page Count: 168
"Proficiency-Based Grading in the Content Areas provides educators with relevant and actionable steps to help shift their grading practices from a transactional model to one that focuses on learning outcomes. No other book provides content-specific examples of putting proficiency-based grading into practice in ways that help build student efficacy. This book should be required reading for any high school teacher looking to revolutionize the classroom."
"Figuring out how to use assessment to help students learn is a powerful process. At award-winning Adlai E. Stevenson High School, teachers work in teams, administrators are in the loop, and students are the focus. Proficiency-Based Grading in the Content Areas offers a comprehensive, methodical, and compassionate approach to systemic improvement of grading practices."