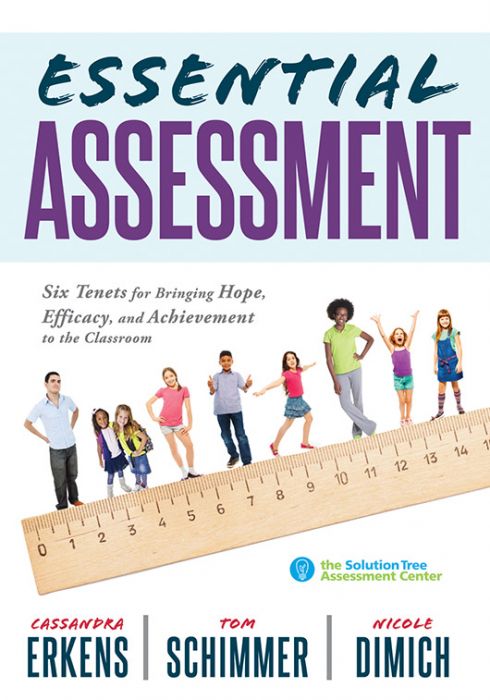 Six Tenets for Bringing Hope, Efficacy, and Achievement to the Classroom
Explore six essential tenets of assessment that will help deepen your understanding of assessment to meet standards and enhance your students' academic success.
Publication date:
Only %1 left
Essential Assessment
Discover how to use the power of assessment to instill hope, efficacy, and achievement in your students. With this research-based resource, you'll explore six essential tenets of assessment—assessment purpose, communication of assessment results, accurate interpretation, assessment architecture, instructional agility, and student investment—that will help deepen your understanding of assessment to not only meet standards but also enhance students' academic success and self-fulfillment.
Interpret the research-based tenets of assessment that are necessary to maximize all students' learning.
Gain advice and strategies for immediately acting on the six essential assessment tenets.
Discover why it is vital that assessment practices build students' and teachers' hope, efficacy, and achievement.
Consider scenarios that illustrate traditional, outmoded assessment practices and revised scenarios that feature practices that better reflect modern assessment needs.
Reflect on questions related to the content of each chapter and study next steps that teaching teams can take.
---
Additional Information
Product Code: BKF752,EKF354
ISBN: 9781943874491
"Essential Assessment provides a framework that outlines a foundation of beliefs and practices that reach far beyond the testing mindset to positively impact the lives of students and foster a sense of empowerment. With the six tenets in his or her back pocket, any educator will be more thoughtful and intentional about the culture of assessment promoted within his or her school and classroom."
"On many pages of this book, my thought was 'I wish I had written that.' Easy to read and logically organized, this book supports educators in deepening their general knowledge of assessment and classroom assessment literacy and strengthens conversations about making assessment a support for learning."
"For far too long, assessment is something that has been done to students by teachers—a game of 'gotcha' in which students rarely know the rules and typically end up feeling defeated. In Essential Assessment, Erkens, Schimmer, and Vagle provide a clear picture of what powerful assessment practices look like when they are focused on learning, and when teachers and students build hope, efficacy, and achievement through the assessment process."
"Essential Assessment offers instructional leaders a clear, concise guide to best practices in assessment design and implementation. This resource keeps the purpose in mind, offering practical guidance in working with assessment, identifying relevant research for additional investigation, and offering reflection questions to deepen practitioners' understanding. Essential Assessment is an excellent resource for any instructional leader who seeks to bridge the gap between knowing and doing."
"Combining hope and assessment in one title is a masterpiece. It is worth reading this book because of the focus on interpreting and using assessments, seeing assessment as feedback information for teachers, and teaching students to use assessment to invest in further learning. Very well written, with plenty of examples and great resources. After reading it, you should be able to turn hope into action."
"Essential Assessment blends the effect good assessment practices have on both teachers and students to reshape the mindset about learning together in an environment that is both fun and focused."
Free Resources
Explore these powerful tools to help reach your goals.