Proven techniques to close learning gaps
Response to intervention (RTI) is not a series of implementation steps to cross off on a list but a way of thinking about how educators can ensure each child receives the time and support needed to achieve success. This workshop was developed for school teams who have started RTI but are still refining processes or experiencing challenges. The presenter has worked with hundreds of schools throughout North America and can help your school make RTI efficient, effective, and equitable. RTI work must be divided between collaborative teacher teams and two schoolwide teams (a leadership team and an intervention team). Together, the entire school assumes responsibility for the learning of every student.
Learn why bureaucratic, paperwork-heavy, compliance-oriented, test-score-driven approaches fail, and then learn how to create an RTI model that works. Acquire four essential guiding principles—collective responsibility, concentrated instruction, convergent assessment, and certain access—and experience a simple process for bringing these principles to life in your school.
Drive implementation using the four guiding principles.
Create a school leadership team to steer the shift to a culture of collective responsibility.
Utilize collaborative teacher teams to define essential learnings.
Create a toolbox of effective interventions.
Build a schoolwide intervention team to address complex issues such as motivation, attendance, and behavior.
Learn from leading experts
Hear from our attendees
"Many, many thanks for this wonderful opportunity to help educators understand how we can better help students . . . They are our future."
Agenda and speakers are subject to change.
Monday, April 15th
| | |
| --- | --- |
| 7:00–8:00 a.m. | Registration and Continental Breakfast |
| 8:00–11:30 a.m. | Presentation |
| 11:30 a.m.–12:30 p.m. | Lunch (provided) |
| 12:30–3:30 p.m. | Presentation |
Tuesday, April 16th
| | |
| --- | --- |
| 7:00–8:00 a.m. | Registration and Continental Breakfast |
| 8:00–11:30 a.m. | Presentation |
| 11:30 a.m.–12:30 p.m. | Lunch (provided) |
| 12:30–3:30 p.m. | Presentation |
Events reach capacity quickly. Please confirm your registration before making travel plans.
Parking information: Complimentary
In order to receive the discounted hotel room rate, please mention Solution Tree. After the deadline listed below, rates will be determined by the hotel.
---
Primary Hotel
Hilton Garden Inn Idaho Falls
700 Lindsay Blvd
Idaho Falls, Idaho 83402
208.522.9500
Discounted Rate: (single or double) $159/night
Deadline: March 24, 2024, or until group rate is sold out
Another way to book reservations is by calling Hilton Reservations toll-free number at 1-800-HILTONS, please mention the 2024 Spring Workshops - Idaho Group Block at Hilton Garden Inn Idaho Falls or the unique code SWI to receive your group rate.
"Clear, concise workshop about RTI! The presenter did a great job of answering questions and breaking down what RTI is all about."
"I loved having time to work with our team, discuss how it all applies to us, and then be able to make plans for our next steps! Our team came away from the workshop feeling energized and enthusiastic about the wealth of knowledge presented."
"Excellent content and examples! It was very timely for what I'm trying to achieve at my school."
"Most valuable information I've received at a training in many years. We are really excited about taking the information we gained and developing a plan that is effective for all students at Bowie."
Venue
Hilton Garden Inn Idaho Falls
700 Lindsay Blvd
Idaho Falls, Idaho
---
Participation Information
You will receive a certificate of participation 6 weeks after the event concludes. Please check with your state department of education for CEU availability.
---
Additional Information
---
Included with your registration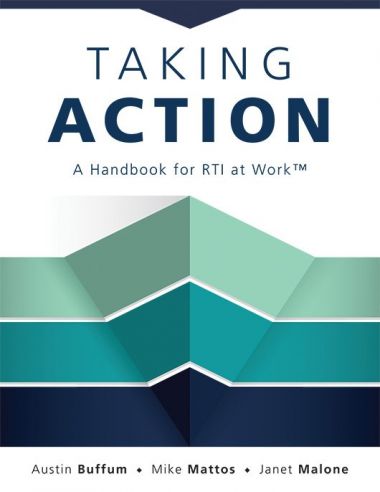 This practical implementation guide will teach you the RTI process (or MTSS) and how it can drive continuous improvement and academic success for your school.
We're enhancing your event experience. In addition to providing presentations in digital format, Solution Tree is publishing retail-quality, perfect-bound notebooks expertly designed to support your learning. Any printed handouts or worksheets integrated into your sessions will continue to be provided.