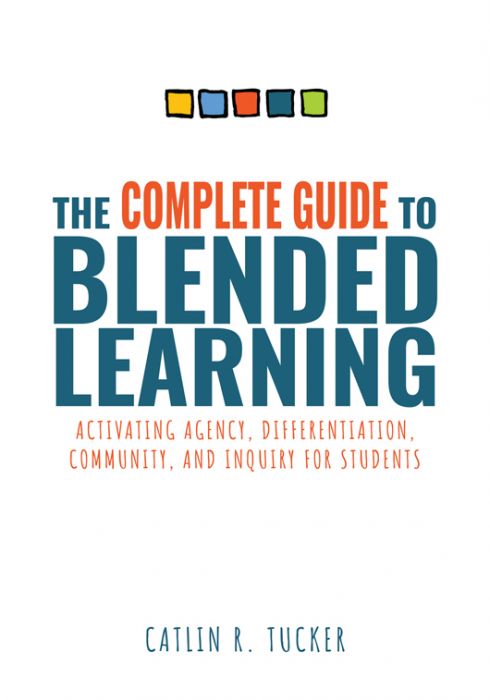 The Complete Guide to Blended Learning
Activating Agency, Differentiation, Community, and Inquiry for Students
Embrace the new normal of hybrid teaching and enhance student learning. Connecting theory and reflective experience this book equips educators with blended learning strategies for both classroom and online environments.
Publication date:
Only %1 left
Essential guide to strategies and tools to enhance student learning in blended environments
Skillfully shifting between online and in-person learning has become expected of teachers. In this essential guide, you will learn how to harness technology to enhance student learning in both realms. Combining theory, reflection, and personal experience, author Catlin R. Tucker equips educators with a wide variety of strategies and tools to support student and educator success in blended environments and beyond.
K–12 teachers and administrators will:
Gain insight on why blended instruction provides paths for effective, student-centered teaching
Learn to navigate flexible learning landscapes
Understand different collaborative and community-oriented strategies for successful blended teaching
Utilize thoughtful reflection questions to examine your own school or district
Discover strong theoretical frameworks and models for online and off-line instruction
Related Topics
InstructionStudent EngagementTechnology
---
Additional Information
Product Code: BKG082, EKF627
ISBN: 9781954631335
Published By: Solution Tree
"With examples, reproducible resources, reflection questions, and springboards for personalization, Catlin takes the guesswork out of refining blended learning practices. This book truly activates readers to become blended learning champions calling forth the best out of all learners to maximize their full potential. . . . This complete guide features ready-to-use models that will help educators design with the needs of learners in mind while creating space for them to make connections and decisions."
"This book is timely and relevant. It will help teachers and teams create a vision of what blended learning looks like in the classroom, how to implement it into their already-established practices, and how to grow the tools they already [are] or should be using. There is a lot of information out there about using technology to leverage learning, but this book outlines the steps, starting with the why and what of blended learning and building the blocks from there."