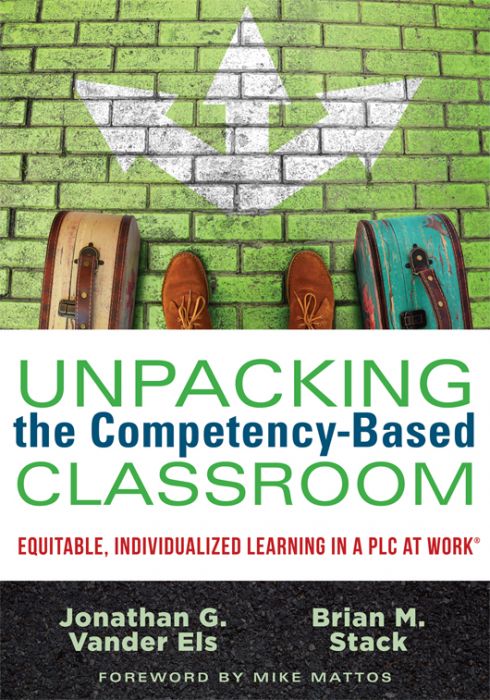 Unpacking the Competency-Based Classroom
Equitable, Individualized Learning in a PLC at Work®
Explore a variety of perspectives and examples from educators who have shifted to competency-based education in their classrooms with great results.
Unpacking the Competency-Based Classroom
When implemented effectively, competency-based education (CBE) promotes high levels of learning for every student. Further, the practices and structures of a professional learning community (PLC) support this work. Explore a variety of perspectives and examples from educators who have shifted to CBE with great results. The book details how to do the work by reevaluating and revamping traditional policies, structures, and procedures, including assessment and instruction practices.
Discover how to make the transition to competency-based education to promote learning for all students.
Learn the role PLC practices and structures play in establishing competency-based classrooms and schools.
Study real-world experiences and insights from educators from various schools and districts that have transitioned to competency-based systems.
Reflect with end-of-chapter questions to enhance your understanding of the material.
Receive reproducible templates you can easily use and adapt to fit your needs.
Related Topics
AssessmentInstructionProfessional Learning Communities at Work®Professional Learning Communities
---
Additional Information
Product Code: BKG018
ISBN: 9781952812453
Published By: Solution Tree
Page Count: 256
"This book is far more than some tips and activities to try in your class; it reveals a whole new way of thinking about how we instruct, assess, and motivate student learning."
"Jonathan Vander Els and Brian Stack have written the map for educators seeking to transform their schools into equitable, competency-based, next-generation learning environments. Their experience; their steady, practical guidance; and the many voices of fellow educators that populate this book make this a must-have resource for all transformation-minded educators."
"Change is often challenging, particularly when you set out to innovate on a century-old model of schooling. Unpacking the Competency-Based Classroom takes you deeper into competency-based learning and reveals additional details that elevate the work the authors started in their book Breaking With Tradition. Vander Els and Stack provide critical information for guiding educators' transformative work."
"The authors expertly unpack the philosophy of competency-based education, providing a guide for what is necessary in instruction, assessment, grading, and support in the competency-based classroom. Their clear guidance, along with practical templates, design rubrics, and practitioner perspectives, makes this a must-read book."
"Jonathan Vander Els and Brian Stack offer a comprehensive, encouraging, and expert roadmap for transforming schools in service of greater equity and student engagement through competency-based learning. Based on their deep experience as leaders of competency-based schools, Vander Els and Stack convey both the big ideas and the nuts and bolts of classroom practice and professional learning communities. I will pull this book off my shelf again and again as a key competency-based learning reference."
"Jonathan Vander Els and Brian Stack have shared their expertise in a manner that will benefit the field of education for years to come. . . . For years, educators have been asking for practical examples and models to begin this important work. Vander Els and Stack have delivered on this need with Unpacking the Competency-Based Classroom."
Free Resources
Explore these powerful tools to help reach your goals.