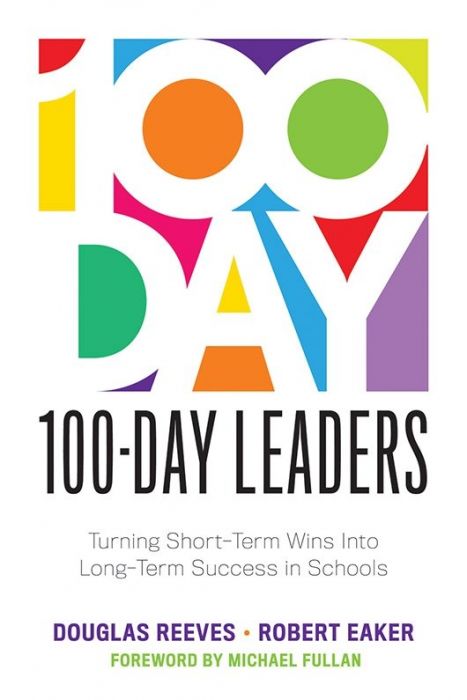 Turning Short-Term Wins Into Long-Term Success in Schools
Dramatically increase student achievement and transform school culture in only 100 days. Using focused, strategic planning and change management, educational leadership can make significant changes that lead to continuous school improvement.
Publication date:
Only %1 left
A 100-day action plan for meaningful school improvement
Within 100 days, schools have dramatically increased student achievement, transformed faculty morale and school culture, reduced discipline issues, and much more. Begin leading focused, meaningful change in your own school with the support of 100-Day Leaders by Douglas Reeves and Robert Eaker. Using this book to guide your school improvement plan, you will learn how to achieve a series of short-term wins that combine to form long-term success.
Begin a 100-day action plan for educational leadership to effect significant school improvement:
Become familiar with the 100-day leadership plan and the six stages of implementation.
Understand the importance of a collaborative culture in creating strong leadership in schools.
Develop an understanding of high-leverage leadership techniques and strategic planning.
Study the personality traits and leadership qualities that support successful change management and school improvement.
Access reproducible rubrics that can be used to measure progress of the 100-day leadership action plan and your school leadership development.
Related Topics
LeadershipProfessional Learning Communities at Work®Professional Learning Communities
---
Additional Information
Product Code: BKF919, EKF482
ISBN: 9781949539257
Published By: Solution Tree
Page Count: 168
"In a world of leadership books that are more abstract than practical, this book is a breath of fresh air. Reeves and Eaker combine years of research and practical experience to provide a guide to more influential leadership now. A comprehensive, logical, and practical book that I wish I had when I started my school leadership journey."
"Reeves and Eaker strip away all of the chaos and clutter of the myriad details that face school administrators and provide clear actions that produce clear and useful outcomes. This book should be on the nightstand of all administrators, particularly new ones."
"Few books combine moral purpose and practical success so readily. Reeves and Eaker supply strategies and tools to help leaders get on course and stay there. . . . A powerful and inspirational resource."
"Doug Reeves and Bob Eaker have done it again. They have compiled research, experience, and common sense into what will be a practical manual for every educational leader. There are plenty of books that share research findings, but like all of us, educators can struggle to put theory into practice—with how to operationalize the theory in the day-to-day life of leading the work of improving learning. It should be on every school leader's desk, highlighted and scribbled in, with sticky notes and dog-eared corners. Reeves and Eaker have invested in your leadership. Get this book and use it!"