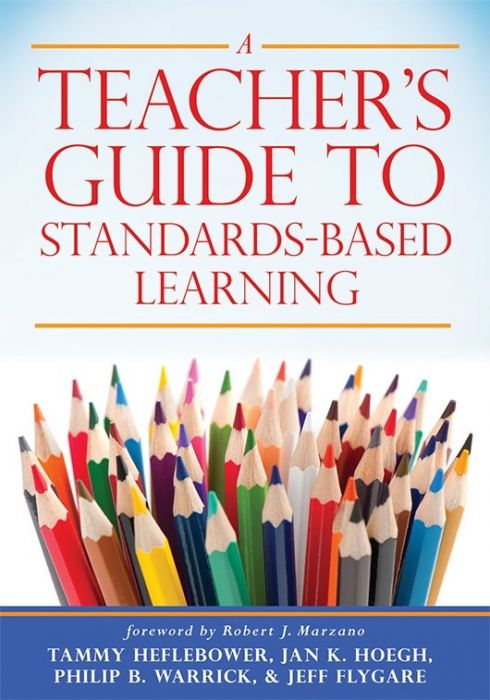 A Teacher's Guide to Standards-Based Learning
Designed specifically for K–12 teachers, this guide provides a sequential approach to implementing standards-based education in the classroom. Transition to more effective instructional strategies and use standards-based grading and assessment methods to better measure student learning.
Publication date:
Only %1 left
An Instruction Manual for Adopting Standards-Based Curriculum, Grading, and Feedback
When teachers adopt standards-based learning, students take ownership of their education and achievement soars. Written specifically for K–12 teachers, this resource details a sequential approach for connecting curriculum, instruction, assessment methods, and feedback through standards-based education. The authors provide practical advice, real-world examples, and answers to frequently asked questions designed to support you through this important transition.
Implement standards-based grading, instruction, and curriculum in your classroom and school:
Explore the theories and benefits of a standards-based curriculum.
Become familiar with several significant paradigm shifts that will help you make a strong transition to a standards-based classroom.
Explore ways to shift your thinking about teaching and lesson plans in order to better understand content as a vehicle for the achievement of standards.
Learn how to develop proficiency scales that will offer guidance in teaching to standards and establishing informative classroom assessment for student learning.
Discover new styles of instruction, educational assessment, feedback, and curriculum building that are well suited to standards-based education.
Understand how to develop student ownership through the setting of goals.
Access free downloadable reproducibles available with this book.
Related Topics
---
Additional Information
Product Code: BKL044, EKL036
ISBN: 9781943360253
Published By: Marzano Resources
Page Count: 176
"A Teacher's Guide to Standards-Based Learning systematically shows how standards-referencing defines and unifies planning, instruction, and assessment. The book is more than a 'how-to' primer; it explains why as well as telling how, contains helpful charts for teacher use, and provides a wealth of suggestions for involving students in the process of using standards not only as the end point of learning, but as part of the journey."
"Transitioning to a standards-based classroom can be challenging. A Teacher's Guide to Standards-Based Learning, situated squarely within Marzano's framework, will serve teachers and instructional leaders well as they transition to instructional, feedback, and assessment strategies that support learners. This book is a practical and sequential companion for teachers and provides clear, working definitions and examples to assist the practitioner in this journey."
"Readers will find A Teacher's Guide to Standards-Based Learning an accessible resource for professional development in standards-based learning. The authors have effectively blended best practices with practical guidance that can be realistically implemented in the classroom."
Free Resources
Explore these powerful tools to help reach your goals.