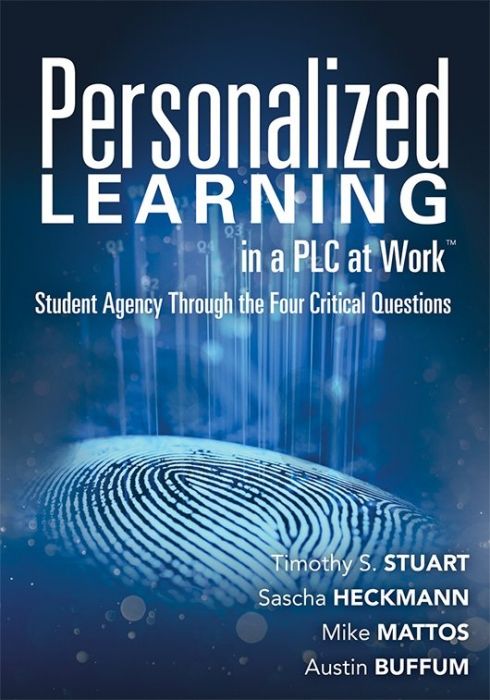 Personalized Learning in a PLC at Work™
Student Agency Through the Four Critical Questions
Become a highly effective, learning-progressive school that utilizes PLC processes and well-implemented RTI structures to promote student agency. Increase authentic learning, engaging students in personalized learning experiences.
Develop innovative PLC- and RTI-based personalized learning programs
Highly effective learning-progressive schools share two common elements: they operate as high-functioning professional learning communities (PLCs) with well-implemented RTI structures, and they promote student agency in the learning process. Rely on this resource to help you build a highly effective school where students are engaged in personalized learning experiences and empowered to take ownership of the four critical questions of the PLC at Work™ process.
Use this book to create student-centered learning pathways that drive authentic learning and achievement:
Discover how to use the four critical questions of a PLC to form pathways and progressions for personalized learning in the classroom.
Begin the inquiry process through the use of personal reflections provided at the conclusion of each chapter.
Understand how the school system has changed over the years and why it is important to address these changes.
Explore innovative teaching methods and curriculum-development strategies for achieving different learning outcomes.
Learn how schools all over the world have successfully implemented personalized and self-directed learning.
Related Topics
21st Century SkillsProfessional Learning Communities at Work®RTI at Work™
---
Additional Information
Product Code: BKF703
ISBN: 9781942496595
Published By: Solution Tree
Page Count: 216
"This thought-provoking book challenges us to reconcile the tension between the personalization that students need and the consistency that collaborative teams require. The authors offer a framework for educators and leaders who want to take the next step with their PLCs."
"Deep, meaningful learning is the aim of every school. This book provides the logic, structure, and methodology to bring the best out of teachers and students, to allow them to become partners in that journey. This book gives us a glimpse into the school of the future—the school we all want for our own children."
"Unique and timely. This systematic approach to releasing responsibility of learning to the student is PLC at its highest level."
"A very powerful model and concept that clearly articulates the need to harness PLC and RTI for personalized learning."
Explore these powerful tools to help reach your goals.