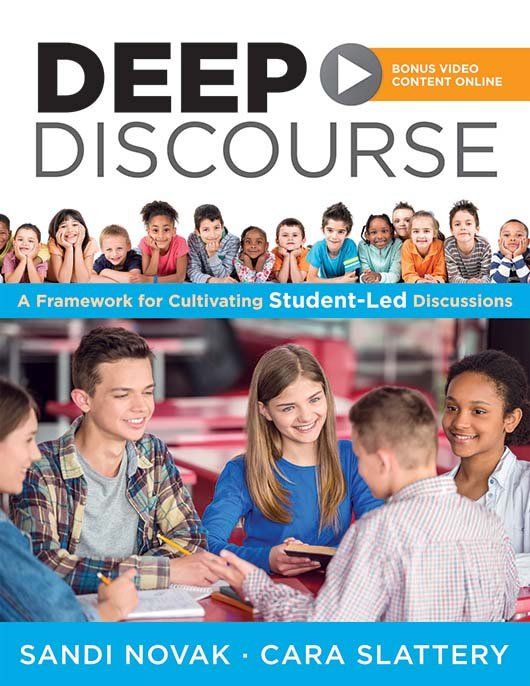 A Framework for Cultivating Student-Led Discussions
This book details a framework for implementing student-led classroom discussions that improve learning, motivation, and engagement across all levels and subject areas.
Deep Discourse
When educators provide explicit instruction, guidance, and feedback to students and let them steer the dialogue, students develop essential critical-thinking, problem-solving, and self-directed learning skills. This book details a framework for implementing student-led classroom discussions that improve student learning, motivation, and engagement across all levels and subject areas. The text features tools, tips, and exercises, plus unrehearsed videos of student-led classroom discussions.
Implement the student-led discussion framework and measure progress with the rubric for student-led discussions.
Watch videos of real discussions among K–12 students and convey how educators and administrators can best prompt students to engage in their own productive conversations.
Explore questions for stimulating students' critical thinking in multiple subject areas.
Examine students' thoughts about being involved in their own student-led discussions.
Follow "Take Action" prompts to exercise newly acquired knowledge.
Access free reproducible versions of tools and rubrics featured in the book.
Related Topics
21st Century SkillsInstructionSchool Improvement
---
Additional Information
Product Code: BKF725
ISBN: 9781943874026
Published By: Solution Tree
Page Count: 184
"Deep Discourse provides a much-needed resource for classroom teachers and coaches in establishing a structure and process to support rich, in-depth discussion about challenging texts, concepts, and ideas. The book focuses primarily on literacy classroom conversations, but the framework provides a scaffold to guide students' inquiry and critical thinking in any subject area. The text establishes a foundational design that allows for both intentional questioning and problem-solving as well as open and fluid conversation. The accompanying resources and video examples build on that foundation to show educators how to develop a classroom culture that values discourse and dialogue. Shifting the leadership of collaborative discussion to our students maximizes the potential of the overall learning experiences. This is exactly what we seek to offer in 21st century classrooms! Novak and Slattery have developed an essential resource for classroom teachers who honor the learning process over simple content delivery and can truly foster students who can generate thoughtful questions and articulate insightful responses, as well as defend their own point of view."
"When you work in a school like mine, where 70 percent of the students come from poverty and where class sizes are astronomical, you need all the help you can get to keep students engaged and learning. This book provides the theoretical and practical information teachers need to build success for all students in their classrooms, no matter what those students' backgrounds are. I have worked with Sandi Novak for several years and this year my school was selected as a Reward School by the state of Minnesota for the fifth year in a row. The tools I gained through my work with Sandi, and the tools my students have honed in creating meaningful discourse, contributed immeasurably to our success!"
"Are student led discussions happening at your school? Do you know how to empower students to lead and engage in rich discourse? In Deep Discourse, Sandi Novak and Cara Slattery have written a must-read for all educators that explains how to inspire students to use their own voices to drive their literacy learning to higher levels through student-led discussions. This book gives educators the tools they need to implement a schoolwide initiative that raises the literacy achievement of all students through the power of discourse. As an elementary school principal I felt empowered by the descriptions, tools, and resources in this invaluable book to immediately take action to lift the literacy culture in my building. With the demand of Common Core and the increasing need for students to think deeply about what they read and articulate that thinking, this book is a perfect addition to the bookshelves of all teachers and literacy leaders in elementary education."
Free Resources
Explore these powerful tools to help reach your goals.