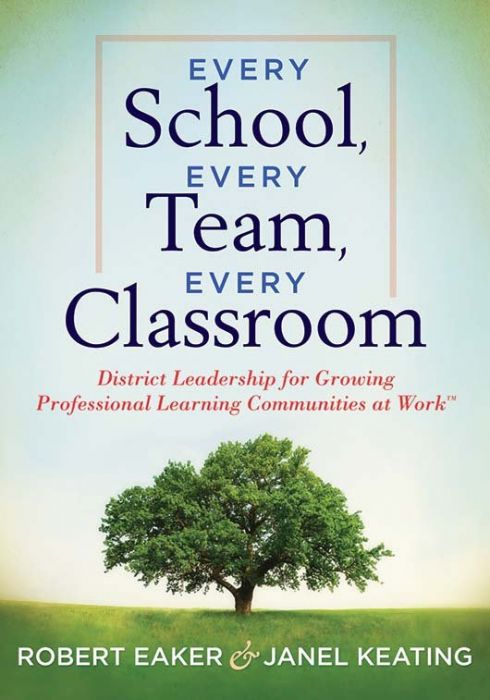 Every School, Every Team, Every Classroom
District Leadership for Growing Professional Learning Communities at Work™
With a focus on creating simultaneous top-down and bottom-up leadership, the authors show how to grow PLCs by encouraging innovation at every level.
Every School, Every Team, Every Classroom
The PLC journey begins by articulating a moral purpose: a dedication to ensuring that every student learns. Using many examples and reproducible tools, the authors explain the need to focus on creating simultaneous top-down and bottom-up leadership to align district- and school-level policies and procedures. Learn how to grow PLCs by providing direction and encouraging innovation at every level of the district.
Understand the real work that districts must do to ensure that every school implements PLC practices.
Explore how to build excitement and commitment to the PLC mission.
Build shared knowledge of PLC practices with school board members, principals, teams, individual teachers, and the broader community.
Gain strategies for district leaders to support and monitor the critical work of principals in creating collaborative teams.
Get strategies and tools to help teacher teams focus their collaborative work on student learning.
Related Topics
LeadershipProfessional Learning Communities at Work®Professional Learning Communities
---
Additional Information
Product Code: BKF534
ISBN: 9781936765096
Published By: Solution Tree
Page Count: 240
"If a school is not dedicated to learning, it is not seeking its own purpose. [This book] discusses the professional learning community in the standard academic school, stating that a community where the teachers continue to learn will encourage them to keep the students learning, as Robert Eaker and Janel Keating use their collective expertise in education on many levels to discuss how to establish a professional learning community at one's own school. [This book] is a scholarly and much-recommended addition to community and college library education collections."
Free Resources
Explore these powerful tools to help reach your goals.