Free Reproducibles
Raising Equity Through SEL
A Framework for Implementing Trauma-Informed, Culturally Responsive Teaching and Restorative Practices
How can you effectively address the academic and SEL needs of your diverse learners? By activating social-emotional learning within a framework that includes trauma-informed, culturally responsive, and restorative teaching practices.
Benefits
Develop emotional-intelligence skills for adults and students
Examine unconscious beliefs you may have about diverse learners
Use shared agreements to structure difficult conversations with other adults
Move students toward cultural competence and proficiency
Activate SEL across the curriculum without having to stop and "do SEL"
Implement culturally responsive, restorative, and trauma-informed teaching strategies
Learn inclusive pedagogy that raises equity for students who are marginalized
Level up SEL skills using educational technology
Get your copy today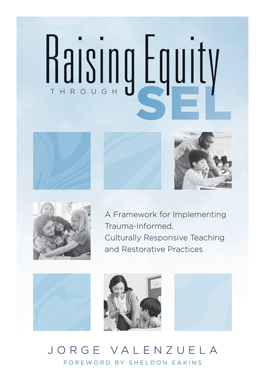 ---
Table of Contents
Part 1: The Equity and SEL Integration Framework
Chapter 1: Learn the Basics of the CASEL 5 and Emotional Intelligence
Chapter 2: Assess Your Unconscious Biases and Beliefs About Students
Chapter 3: Improve Your Knowledge of Your Students
Chapter 4: Help Students Develop Emotional Intelligence Skills
Chapter 5: Activate Social-Emotional Learning in Your Lessons
Part 2: Three Focus Areas for Equity and Social-Emotional Learning
Chapter 6: Implement Trauma-Informed Teaching
Chapter 7: Implement Culturally Responsive Teaching
Chapter 8: Implement Restorative Practices and Restorative Justice
Part 3: More Equity Raisers for SEL
Chapter 9: Add Inclusive Pedagogy to SEL Plans
Chapter 10: Activate SEL Through Equity and Educational Technology
STUDY GUIDE
REPRODUCIBLES
SUGGESTED RESOURCES
Books
Cohen, R. K., Opatosky, D. K., Savage, J., Stevens, S. O., & Darrah, E. P. (2021). The metacognitive student: How to teach academic, social, and emotional intelligence in every content area. Bloomington, IN: Solution Tree Press.
Colburn, L., & Beggs, L. (2021). The wraparound guide: How to gather student voice, build community partnerships, and cultivate hope. Bloomington, IN: Solution Tree Press.
Grafwallner, P. (2021). Not yet . . . and that's OK: How productive struggle fosters student learning. Bloomington, IN: Solution Tree Press.
Parrish, N. (2022). The independent learner: Metacognitive exercises to help K–12 students focus, self-regulate, and persevere. Bloomington, IN: Solution Tree Press.
Introduction
Chapter 3
Chapter 4
Chapter 5
Chapter 8
Chapter 9
Appendix A