Free Reproducibles
Establishing a Lasting Legacy
Six Steps to Maximize Your Leadership Impact and Improve Teacher Retention
Grow as an authentic leader and retain great teachers with Establishing a Lasting Legacy. Built on foundational leadership principles, this resource offers practical tools and suggestions that will help you develop teacher self-efficacy, address retention problems, build positive relationships, and more.
Benefits
Understand why there is a teacher retention problem and ways to provide needed support to educators.
Learn how to grow your own leadership skills as well as how to build collective efficacy schoolwide.
Discover how to increase transparency, self-efficacy, and trust with staff.
Receive reflection questions, prompts, and templates to deepen learning and understanding of the material.
Study vignettes, examples, and advice from experienced educators.
Get your copy today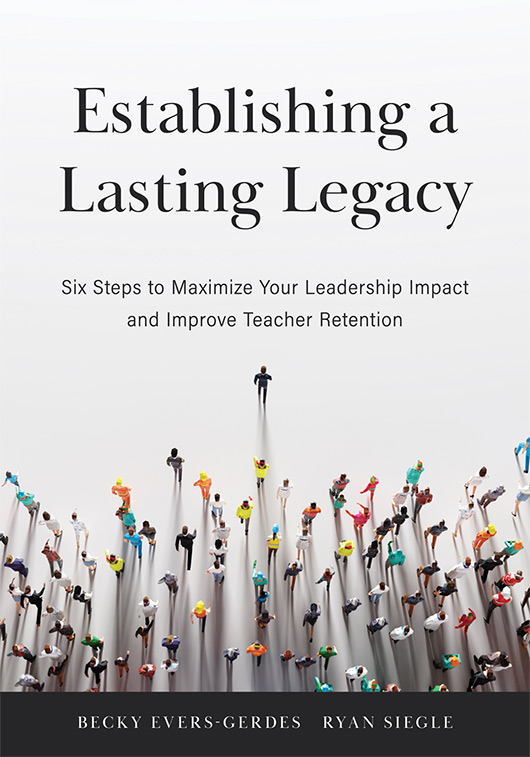 ---
Table of Contents
Introduction: What Will Be Your Legacy?
Part One: Who Am I, Who Are You, Who Are We?
Chapter 1: Lead Authentically
Chapter 2: Develop Teacher Self-Efficacy
Chapter 3: Build a School of Collective Efficacy
Part Two: What Matters Most?
Chapter 4: Build and Rebuild Trust
Chapter 5: Listen to Your People
Chapter 6: Develop a Shared Vision
Conclusion
REPRODUCIBLES
Chapter 1
Chapter 2
Chapter 3
Chapter 4
Chapter 5
Chapter 6
Conclusion
SUGGESTED RESOURCES
Books
DuFour, R. (2015). In praise of American educators: And how they can become even better. Bloomington, IN: Solution Tree Press.
DuFour, R., DuFour, R., Eaker, R., Many, T. W., & Mattos, M. (2016). Learning by doing: A handbook for Professional Learning Communities at Work (3rd ed.). Bloomington, IN: Solution Tree Press.
Kanold, T. D. (2011). The five disciplines of PLC leaders. Bloomington, IN: Solution Tree Press.
Martin, T. L., & Rains, C. L. (2018). Stronger together: Answering the questions of collaborative leadership. Bloomington, IN: Solution Tree Press.
Marzano, R. J., Warrick, P. B., Rains, C. L., & DuFour, R. (2018). Leading a high reliability school. Bloomington, IN: Solution Tree Press.