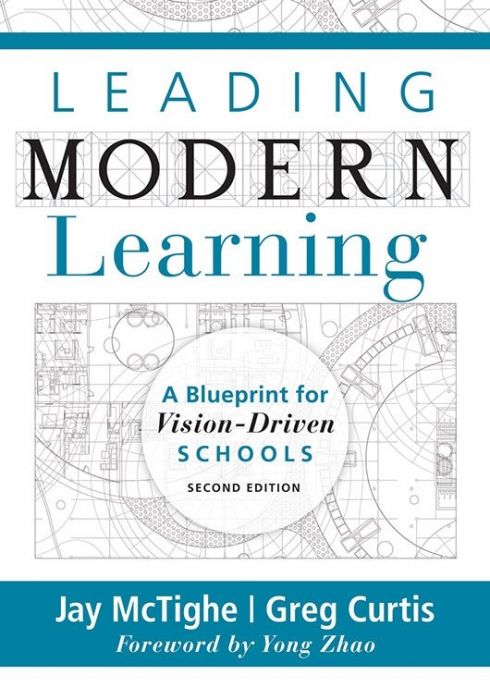 Leading Modern Learning [Second Edition]
A Blueprint for Vision-Driven Schools
Redesign education to empower modern learners and meet the needs of the 21st century classroom with Leading Modern Learning, Second Edition. Authors Jay McTighe and Greg Curtis will guide school and district leaders—as well as teacher and curriculum teams—through implementing a system of effective modern learning practices.
Publication date:
Only %1 left
A framework of education reform for empowering modern learners
Redesign education to meet the needs of 21st century students. In the second edition of Leading Modern Learning, authors Jay McTighe and Greg Curtis outline a reworked version of their blueprint for major education reform. More than a simple refresh, the latest edition incorporates new insights, experiences, and tools that will help you implement modern learning practices in your department, school, or district.
Use this book to guide education and curriculum reform and empower modern learners:
Understand the necessity and value of education reform and updating school curriculum for the 21st century classroom.
Explore systems thinking and frameworks for backward-design that can be utilized by school leadership to develop action plans and guide school curriculum reform for modern learning.
Read an all-new chapter on change management and strategic planning for district and school leadership as well as new Notes From the Field, which highlight how to avoid potential missteps and misunderstandings that inhibit progress.
Utilize the appendices and free reproducibles to further your understanding of education reform, curriculum development, and school leadership for modern learning.
A joint publication of ASCD and Solution Tree
Related Topics
InstructionLeadershipSchool Improvement
---
Additional Information
Product Code: BKF850, EKF443
ISBN: 9781947604445
Published By: Solution Tree
Page Count: 248
"Rarely does a book so delightfully blend theory, evidence, and practical application. In this wonderfully interactive format, McTighe and Curtis invite us to not merely read their work but to study it in a collaborative setting. Readers' investment of time will improve teaching, learning, and leadership, and most importantly, it will propel the engagement of students."
"Leading Modern Learning provided the blueprint to the development of a guaranteed and viable curriculum for Shanghai American School's four hundred teachers and 2,800 students. Since we adopted our schoolwide transfer goals, all conversations have been focused on learning that truly matters."
"In the digital millennial age, where we must constantly rethink how we lead schools, Leading Modern Learning offers an innovative blueprint on how to successfully utilize a school's vision to drive day-to-day instructional practices and curriculum. I highly recommend this book for any aspiring or practicing school leader who is looking to effectively lead schools in the 21st century and beyond."
"This book makes a significant contribution to the current thinking about transforming schools into systems where thoughtful work takes place at every level. Jay McTighe and Greg Curtis refresh the original book with new insights and field notes from their practice. Regardless of the programs you are considering, this book provides a critical road map for change. Thank you, Jay and Greg, for writing this second edition. It is a real commitment to sharing your continuous learning journey."
"Both practical and aspirational, this book provides a clear, detailed, and informed plan for closing the considerable gap between how teaching and learning are often planned and implemented and how they would be designed and enacted if we were determined to do what we already know to do. This is no Jetson-like school of the future, but rather a familiar place made extraordinary through deep thinking and sustained planning. Leading Modern Learning provides the tools and guidance for leaders with the vision and courage to use them."
"This second edition of Leading Modern Learning provides a fresh lens for looking at contemporary education. Jay McTighe and Greg Curtis peel away the layers of quality schooling to reveal the most critical steps necessary for our contemporary context. The style and substance of this book both engage and challenge the reader, often simultaneously—it is a call to action for educational leaders. This book offers so much more than theory, and it should be a book club choice for educators worldwide."
"When a community commits to their vision for 21st century student success, they are embarking on one of the most important challenges in education—transforming teaching and learning practices. This updated edition by Jay McTighe and Greg Curtis provides school leaders with the necessary road map to classroom practice that teachers have been waiting for."