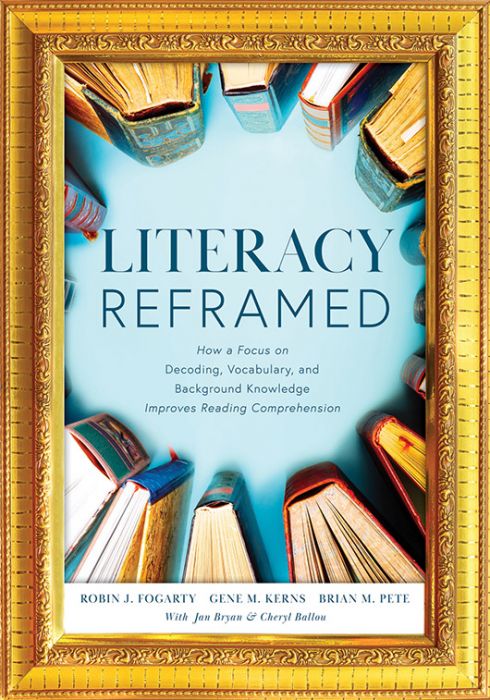 How a Focus on Decoding, Vocabulary, and Background Knowledge Improves Reading Comprehension
Despite reform efforts, reading growth flatlines in the secondary years. Literacy Reframed provides a game-changing new way to think about—and teach—literacy. This resource helps educators boost reading comprehension and engagement through powerful, reframed strategies for teaching decoding, phonics, and vocabulary.
A guide to teaching literacy and boosting reading comprehension through phonics, decoding, and more
Despite efforts toward literacy reform, reading growth commonly flatlines in the secondary years. In Literacy Reframed, the authors offer a game-changing new way to think about—and teach—literacy at all levels. You will gain a dynamic path forward for creating classrooms that fully support students on their literacy journeys and prepare them to become not just literate, knowledgeable citizens but also lifelong lovers of reading.
Gain a thoroughly researched background on the current issues and challenges in the world of literacy.
Understand how phonics gives students a foundation in decoding words and the mechanics of reading to underpin a lifetime of literacy success.
Grasp the necessity of immersing students in vocabulary words throughout their classroom experience.
Discover how background knowledge is essential to reading comprehension and becoming literate.
Consider the role of digital reading in a literacy-rich classroom.
Related Topics
---
Additional Information
Product Code: BKF959
ISBN: 9781951075132
Published By: Solution Tree
Page Count: 200
"If you are looking for a new way to teach reading that goes beyond just the skills, this book offers a fresh perspective to reframe your reading instruction. This holistic and knowledge-centric approach to reading instruction shows you how to leverage decoding, vocabulary, and background knowledge in combination so your students can become engaged readers who can comprehend increasingly complex texts."
"Our current standards are so skill based that content knowledge does suffer; so it's a breath of fresh air to read someone suggesting we need to do something about it."