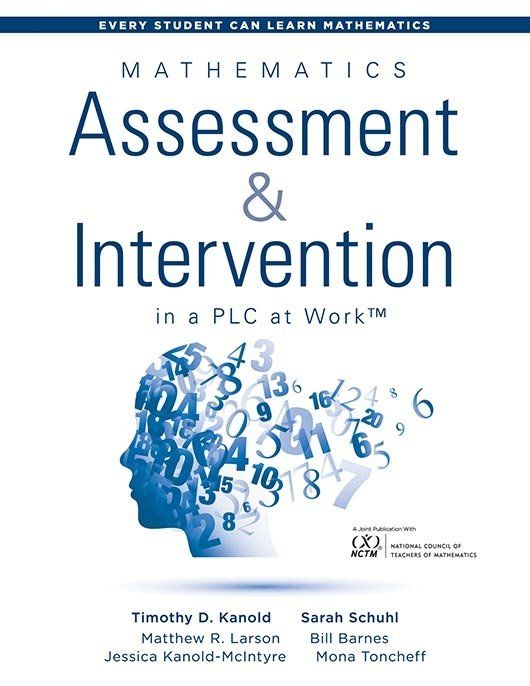 Mathematics Assessment and Intervention in a PLC at Work™
Develop a research-based math intervention program with common unit assessment. Increase student learning using the MTSS or response to intervention model to guide mathematics assessment.
Add this eBook to your credit card purchase and gain immediate access.
eBooks are available on desktop, Android, and iOS via Adobe Digital Editions. eBook purchases are limited to one eBook per title, per account. Please visit the eBook FAQ for more information.
Publication date:
Only %1 left
Develop research-based mathematics assessment and RTI model (MTSS) interventions in your PLC
Harness the power of formative assessment processes within an RTI model (MTSS) to inspire student learning in mathematics. This user-friendly resource is divided into two parts, each covering a key team action for mathematics in a PLC at Work™. First you'll learn how to develop high-quality common assessments. Then discover how to use the mathematics assessments for formative student learning and intervention. The book features unit samples for learning standards, sample unit exams, student performance trackers, and more.
Improve your math assessment methods using RTI Tier 2 interventions and PLC processes as a guide.
Explore an assessment model for writing quality common assessments.
Utilize RTI Tier 2 intervention strategies for effectively responding to student learning.
Make sense of the grade-level content standards and corresponding tasks.
Learn how to write quality common unit assessments and score them accurately.
Determine how students can reflect and set performance goals using common unit assessment results.
Develop a Tier 2 RTI math intervention program to support student learning.
See the other books in the Every Student Can Learn Mathematics series
A Joint Publication of the National Council of Teachers of Mathematics and Solution Tree
Related Topics
AssessmentMathematics at Work™MathematicsProfessional Learning Communities at Work®
---
Additional Information
Product Code: BKF823, EKF417
ISBN: 9781945349973
Published By: Solution Tree
Page Count: 136
"The authors of this book thoroughly impressed me with how accessible they make mathematics assessment and intervention. They share personal stories, lots of samples of items and student work, reflection questions, and program evaluation tools. In addition, they offer discussion tools throughout the book so collaborative teams can engage in conversations about their current reality and the necessary next steps for continuous improvement. Their recommendations are practical and applicable in real schools with real students. Collaborative teams can use this as much more than a book study. By trying out the suggestions and reflections, they will certainly see how every student can learn mathematics."
"Written by leaders in mathematics education, this book provides the tools for using assessment to impact and grow student learning, not just measure it. It made me rethink what I know about assessment and how to use it to positively impact student learning in my classroom and at my school."
"This valuable resource masterfully embeds the guiding principles of professional learning communities and provides practical tools that help teams work collaboratively and move from theory to action. Numerous examples guide teams to collectively design aligned formative assessments, analyze the results of those assessments to gain information about student learning, and implement strategic interventions that help learners grow into capable mathematicians."
"Mathematics Assessment and Intervention in a PLC at Work™ provides the complete package—a powerful resource to guide teacher teams as they work to reshape the assessment story for their students. Teacher reflections, team recommendations, and discussion tools offer opportunities for teachers to reflect on their practice and take action. I can't wait to get my hands on the rest of the books in the series."
"For the mathematics teacher working within a PLC environment, there is now a resource that offers practical strategies and tools to develop high-quality assessments and use the data to effectively respond to student learning. The authors use personal stories and experiences to paint a picture of how students benefit when mathematics teachers and teams put their processes and strategies into practice. Various tools and examples will support any classroom teacher or team seeking concrete and immediately applicable ways to positively impact student learning of mathematics."
Free Resources
Explore these powerful tools to help reach your goals.
My favorite book about math assessment, Mathematics Assessment and Intervention in a PLC at Work, emphasizes the importance of balancing low- and high-cognitive demand tasks (30/70). It's a wonderful resource for my work, yours, too. #atplc #MakeItHappen https://t.co/6xQcy4baNl

— Chris Jakicic (@cjakicic) July 29, 2019