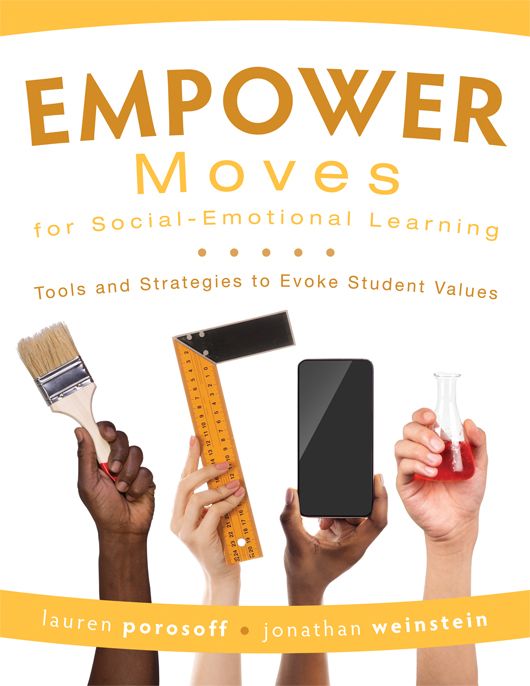 EMPOWER Moves for Social-Emotional Learning
Tools and Strategies to Evoke Student Values
"This book is about an approach to SEL that empowers students to build meaningful lives by connecting their actions—including their actions at school—to their own values," the authors write. Learn how to apply this research-based approach in your classrooms with the help of teacher-friendly tools and strategies.
Publication date:
Only %1 left
Help students find personal relevance in learning for increased student engagement and motivation
EMPOWER students to make school a source of meaning, vitality, and community in their lives. Using this book's interconnected processes—exploration, motivation, participation, openness, willingness, empathy, and resilience—students clarify and commit to the values they want to live by. You will learn 28 activities, as well as extensions and variations for each, that increase student engagement not only in school but in building meaningful lives.
This book will help educators:
Discover a process-based, non-prescriptive, personally relevant, and culturally affirming approach to SEL
Implement SEL as its own curriculum, a pedagogy for academic units of study, or a one-to-one intervention
Facilitate 28 adaptable SEL activities that invite students to identify their own values, choose how they live, and overcome internal struggles
Evoke students' personal values without instilling particular values
Enhance intrinsic motivation, psychological flexibility, student and teacher self-reflection, and student voice
Build relationships, community, a sense of belonging, and compassion in the classroom
Have productive conversations with students and their families about living meaningful lives
Related Topics
21st Century SkillsInstructionSocial-Emotional LearningStudent Engagement
---
Additional Information
Product Code: BKG095, EKF640
ISBN: 9781954631595
Published By: Solution Tree
"Practical, actionable, and loaded with resources! This empowering book is a remarkable collection of tools and strategies to lead with values and appreciation. If you are ready for a pedagogical approach that brings social-emotional learning into academic classes and creates conditions where all can flourish, this is the book for you!"
"In EMPOWER Moves for Social-Emotional Learning, Porosoff and Weinstein bring us back to the importance of honoring students' values with a framework for strengthening social-emotional learning in classrooms and school buildings! Through easy-to-use activities, dialogues, and discussions, educators will be able to develop and implement an SEL program that will EMPOWER all students to choose values-consistent actions throughout their lives."
Free Resources
Explore these powerful tools to help reach your goals.