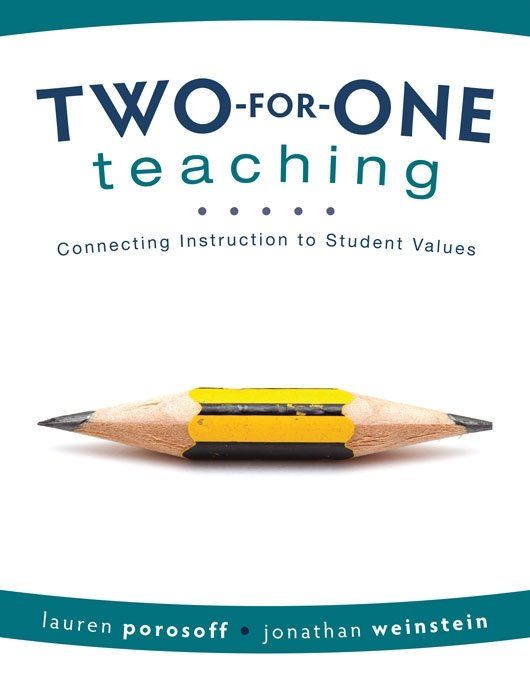 Connecting Instruction to Student Values
Use the academic tasks students already do for social-emotional learning. Integrate student values into academic instruction and make learning meaningful for students. This book will guide teachers in helping students connect their work to their values, empowering them to redefine success.
Integrate social-emotional learning into academic instruction
Empower your students to make school a source of meaning, vitality, and community. Two-for-One Teaching offers 30 protocols, derived from contextual behavioral science, that embed student-centered, equity-driven social-emotional learning into every stage of an academic unit. Transform students' psychological experience of school by turning their lessons, assignments, and assessments into opportunities for them to explore and enact the values they want to live by.
Rely on this resource for meaningful learning in the classroom:
Understand what values are, why students need to discover their own values, and how choosing values-consistent actions can make school more meaningful and satisfying.
Receive 30 customizable protocols rooted in psychological research that simultaneously foster academic and social-emotional growth.
Discover the six stages of an academic unit and how to integrate SEL into every stage.
Learn classroom strategies that affirm students' identities and experiences, foster meaningful and equitable participation, and build a sense of belonging at school.
Go beyond "voice and choice" by helping students use their voices to say what matters and make choices consistent with their values.
Related Topics
21st Century SkillsInstructionSocial-Emotional LearningStudent Engagement
---
Additional Information
Product Code: BKF923
ISBN: 9781949539332
Published By: Solution Tree
Page Count: 248
"This book is essential reading for any teacher who wants students to thrive and succeed and build meaningful, satisfying lives—not just after they finish school, but right now! The authors take you step by step through simple but powerful strategies to help students discover and utilize their own core values, for motivation, inspiration, and fulfilment—both at school and at home. And the great thing is, it won't just help your students live better lives; it will do the same for you."
"School is so much more than academic achievement, and Two-for-One Teaching: Connecting Student Values and Instruction makes an important case for why school should address student values while educating each child. This book is an important read for all teachers who are committed to content but often don't make time for the social-emotional aspect of education. Porosoff and Weinstein provide practical protocols for teachers to use to better empower each student, and the teacher who reads this book will be better armed for it."
"In Two-for-One Teaching, Porosoff and Weinstein have not only provided us with knowledge and resources, but also a book full of ideas that are ready to go. You can never have too many tools in your chest to use with students and adults, and I know this is a book I will keep with me as I again and again try the many ideas shared throughout. I think every middle and high school educator and leader should have this resource, because they'll fall in love with it."
"In this well-written and engaging book, Porosoff and Weinstein give us a road map for crafting a classroom environment that empowers students to build lives—and their educations—around the things that matter to them. It's a recipe for an engaged, fun, and deeply meaningful educational environment, and this book doesn't just make the case for values-driven education—it shows us exactly how to do it. Highly recommended!"