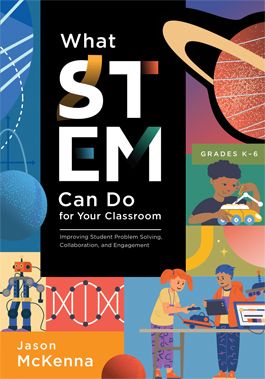 What STEM Can Do for Your Classroom
Improving Student Problem Solving, Collaboration, and Engagement, Grades K–6
This book will help you teach creativity through STEM, focusing on authentic student collaboration and choice while offering examples and field-tested strategies for how to get there.
Publication date:
Only %1 left
Supplement the great teaching you're already doing with these field-tested STEM strategies.
Author and educator Jason McKenna describes how teaching STEM education in his elementary school changed his classroom and his life, improving his students' and his own approaches to problem solving, collaboration, and general motivation to learn. Offering examples, tried and tested classroom projects, and collaborative strategies, this innovative resource opens up STEM education in K–6 classrooms in exciting and expansive new ways.
K–6 educators will:
Understand the benefits and importance of STEM in elementary schools
Build resiliency and curiosity in students
Discover a variety of classroom instruction strategies to approach STEM assessment
Read vignettes discussing STEM implementation across grade levels
Use new strategies to engage and motivate student learning through voice and choice
Related Topics
21st Century SkillsInstructionStudent Engagement
---
Additional Information
Product Code: BKG088, EKF633
ISBN: 9781954631458
Published By: Solution Tree
"From prompts teachers can use in response to student-voiced concerns to overarching design and instructional principles to the dozens of classroom-ready activities sprinkled throughout, it is clear that this is a book by a teacher for teachers."
"What STEM Can Do for Your Classroom is packed with practical and engaging tips that will help any teacher bring the joy of creating and interacting with the world to standards-aligned learning."
"What STEM Can Do for Your Classroom will inspire your creativity and push your thinking on how to integrate STEM to a new level."
Free Resources
Explore these powerful tools to help reach your goals.