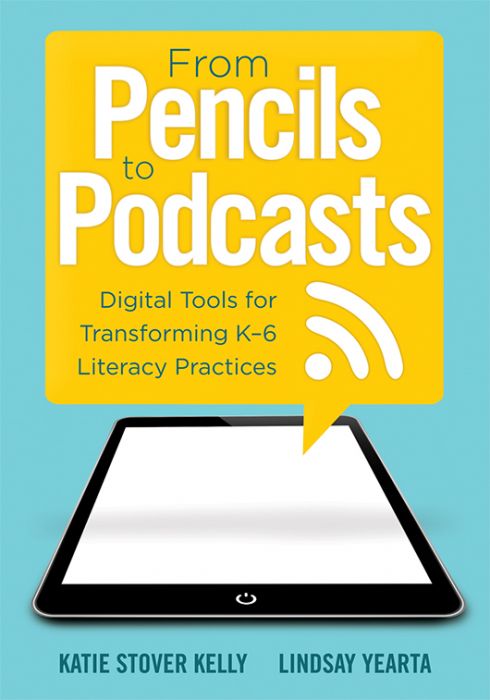 Digital Tools for Transforming K–6 Literacy Practices
This practical resource provides K–6 teachers with suggestions for incorporating technology into literacy practices and illustrates ways technology can deepen students literacy development.
From Pencils to Podcasts
Fully embedding technology into the curriculum is key to preparing students to meet the demands of the 21st century. The authors provide K–6 teachers with practical suggestions for incorporating technology into familiar literacy practices and illustrate ways technology can deepen students literacy development. Each chapter includes information about easy-to-use technology tools, examples from real classrooms, and step-by-step instructions to get started.
Appraise how 21st century notions of literacy differ from traditional notions of literacy.
Consider research that states why it is crucial to include digital tools in todays classrooms.
Learn how to enable students to create, communicate, collaborate, share, reflect, and assess through digital means.
Gain step-by-step instructions for incorporating easily implemented digital tools into classroom practices, and see these tools and practices in action through vignettes.
Receive tips for adapting the suggested digital tools and instructional strategies to meet the needs of different content areas.
Related Topics
21st Century SkillsLiteracyTechnology
---
Additional Information
Product Code: BKF689
ISBN: 9781942496274
Published By: Solution Tree
"From Pencils to Podcasts: Digital Tools for Transforming K–6 Literacy Practices is an important resource for teachers and teacher educators alike! Stover and Yearta expertly respond to the desperate need for a well-thought-out guide for educators to mediate new literacy practices in K–6 classrooms. Their ability to break down complex ideas regarding digital literacy and offer solutions to impact young learners is impressive; the book is a true toolbox with strategies and suggestions to improve instruction with technology. With vignettes to contextualize the topics in each chapter, clear explanations of each digital tool, connections to content areas, and suggestions for adapting dozens of digital tools, the book is engaging, easy to read, and insightful. This should be a must-read for all early childhood and elementary pre-service education programs!"
"In building the case for redefining literacy in the 21st century, Stover and Yearta use the perfect mix of grounded evidence, seamless integration of technology, and authentic practitioner experience in the creation of their book, From Pencils to Podcasts. If you are looking for a book to help you transition from traditional best practice in literacy development—to even better practice by using technology as a means to deepen, expand, and personalize instruction—you've come to the right place! I'll refer to this book often when discussing not only the how-to of new pedagogy in the classroom, but the research behind it."
"If a teacher is new to using 1:1 technology, the book offers numerous ideas that will be adaptable across grade levels. Even if a teacher is familiar with many of the apps and websites, Stover and Yearta provide new insights into the ways in which these tools can be used. For any book that is written for teachers, it is a challenge to create a resource that is overflowing without being overwhelming, and with From Pencils to Podcasts, the authors have certainly accomplished their goal."
Free Resources
Explore these powerful tools to help reach your goals.