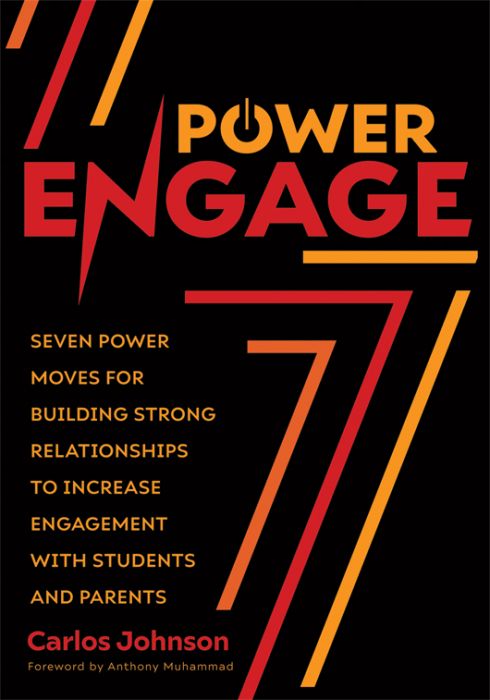 Seven Power Moves for Building Strong Relationships to Increase Engagement With Students and Parents
This book sounds an urgent alarm for educators to increase student, family, and community engagement in learning. Coach Carlos Johnson's framework for performance-based relationships offers a valuable guide to motivating unmotivated students and deepening the investment of all stakeholders in effective classroom instruction.
Build caring connections that strengthen student engagement and invite parents as partners in learning
Gain seven strategies designed to help you engage students and families by building performance-based relationships. Drawing from research and his own experiences as an education leader, Coach Carlos Johnson shares practical guidance on how to deepen the impact of your instruction. Learn his performance-based relationships framework and how to apply it to engaged, partially engaged, and unengaged students.
This book will help K–12 teachers and administrators:
Identify their high why behind increasing student engagement and discover how to help students find their high why as well
Foster a healthy sense of cooperative competition in students that will assist them in reaching their full potential
Tailor their approach in response to the various racial, socioeconomic, and gendered factors that impact student investment
Learn how to build mutually beneficial relationships with parents that help to achieve higher educational performance, transform school culture, and reduce staff stress
Related Topics
Diversity & EquityFamily & CommunityStudent Engagement
---
Additional Information
Product Code: BKG100
ISBN: 9781954631694
Published By: Solution Tree
"Coach Carlos's Power Engage earned a spot on my shelf, focusing on performance-based relationships. The book delivers a potent combination of research, roadmap, and real talk, resulting in a practical and accessible resource."
"With a classroom coach mindset, Coach Carlos provides proven, research-based, relationship-building strategies to increase parent and student engagement and achievement. For serious educators and leaders who want to produce change, this is the playbook."
"All teachers are coaches who encourage and empower students to own their learning. Finding creative ways to power up your engagement in your school starts with your empowerment when you read Power Engage."