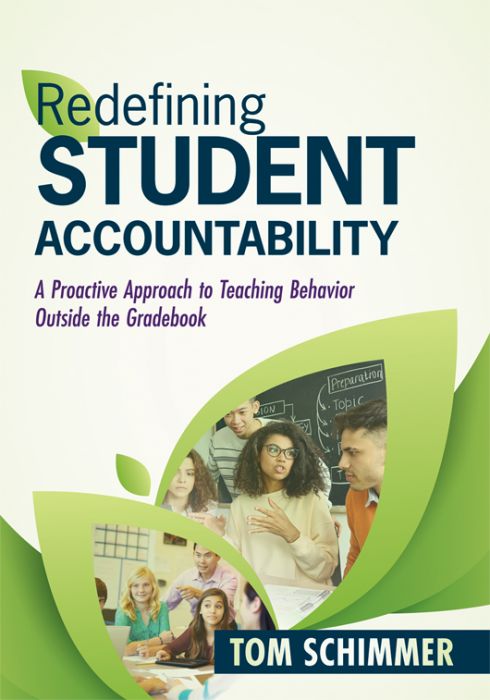 Redefining Student Accountability
A Proactive Approach to Teaching Behavior Outside the Gradebook
Schools have long tied student behavior to academic grades. This book will help you separate achievement from behavior and learn how to teach students positive behaviors, social-emotional intelligence, and skills for navigating their place as learners.
Your guide to improving student learning by teaching and nurturing positive student behavior
The time has come to separate academic achievement from student behavior attributes. Author and trusted assessment expert Tom Schimmer shares a three-tiered framework and trauma-informed, restorative, and schoolwide approaches to teaching responsibility, nurturing student accountability, and addressing student behavior in a way that teaches students the life skills they need to thrive in the classroom and in the larger world.
This book will help K–12 teachers and administrators:
Learn how to create trauma-informed, restorative, and schoolwide approaches to teaching the skills of responsibility to students
Discover how to improve students' social competence through a process of goal-setting, self-monitoring, and self-reflection
Gain an understanding of how the PLC at Work® and RTI at Work™ processes, as well as strong assessment practices, can redefine student accountability in the classroom
Understand how reinforcement works and how to use it to benefit students
Explore why behavior should be separated from grades and how to effectively assess and report on behavior
Related Topics
AssessmentClassroom Management & Behavior
---
Additional Information
Product Code: BKG002
ISBN: 9781952812132
Published By: Solution Tree
Page Count: 176
"In this important book, Tom Schimmer supports educators as they empower students to take responsibility for their behavior. He places the cognitive demand of learning where it belongs— on the student—and provides immensely practical advice for busy teachers. The approach is especially helpful for students in economically disadvantaged communities who often bear the brunt of archaic teaching and discipline practices. Every educator should study and use this book."
"Grading practices are broken in our education system and can do more damage than good. Tom Schimmer addresses this current reality head-on, challenging the norm of linking grades to student behavior and providing real strategies to help educators look beyond tradition for solutions."
"Redefining Student Accountability is well written and offers a clear argument for how to move forward to support learners. Its restorative and trauma-informed approach is woven throughout the practical strategies for teaching, assessing, and reporting. This book adds to the growing and important work around aligning assessment, RTI, and PLCs within the accountability context."
"Every educator would love to witness their students become more responsible and mature while also developing intellectually and cognitively. This book proves that these two ideas are not mutually exclusive and gives educators a pathway to produce both responsibility and improved cognition in students. Tom Schimmer has produced a resource that has been needed for over one hundred years. This is a must-read book!"
"Tom Schimmer's book is the most compelling work to date on grading student behaviors. Filled with research-informed principles, Redefining Student Accountability provides educators at all levels with steps needed to teach, assess, and report student behaviors."
"Redefining Student Accountability is an essential resource for schools striving to achieve the balanced development of both academic achievement and positive behavioral outcomes for students.

In this resource, Schimmer skillfully integrates multiple conversations on student accountability, with attention to approaches for calibrating mindsets among school teams, and then practical strategies for identifying, developing, and reporting on behavioral attributes.

If your team is looking to intentionally develop accountability in students, then this is the resource to both get you started and extend your approaches in ways that will impact students now and into their futures."
"Redefining Student Accountability is a must-read resource for educators passionate about shifting schools and traditional grading systems through MTSS, PBIS, trauma-informed instruction, social-emotional learning, competency-based grading, and restorative practices. What is unique about this text is the concrete guidance on how to integrate and scale these evidence-based frameworks while keeping the student experience at the core. The focus on designing culturally expansive social norms and involving students in developing and monitoring their own progress can help schools create shared responsibility and a culture of dignity while increasing student accountability. The timely reminder that one size doesn't fit all when it comes to student behavior is empowering and actionable, encouraging schools and educators to value the diverse identities and cultural and social norms of the learners we serve."